Do you want to get a magnetic exercise bike? In this buyer's guide, we have listed the finest magnetic exercise bikes for home use. During the epidemic, exercise may have been less of a necessity in your life. However, the ramifications of gym closures are beginning to appear whether you glance at your stomach or just feel the effort during a stroll.
Fortunately, there is yet hope. The Amazon marketplace is brimming with some of the greatest at-home fitness equipment to assist you in reclaiming your exercising objectives. For many people, cycling is the perfect answer. That is why we have compiled a list of 10 amazing magnetic exercise bikes.
Our Handpicked Collection Of Magnetic Exercise Bikes To Reclaim Exercise Goals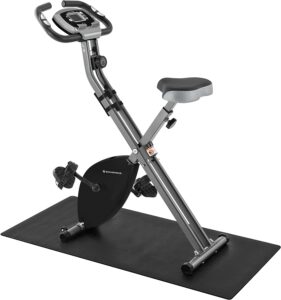 This popular selling magnetic exercise bike comes with all the features you could possibly want.
Songmics's considered design allows you to exercise to the max without waking up your family and then easily folds away when you're done.
Featuring eight magnetic resistance levels for you to increase your power and a large display screen so you can keep track of your P.B., speed, calories burned, and more, there are plenty of reasons to add the Songmics to your growing at-home gym collection.
Pros
Space-saving equipment and easy to store
Large display to easily track progress
Durable PVC mat included minimising floor damage
Watch TV from your smartphone/tablet while exercising
Eight magnetic resistance levels
Silent running
Cons
Limited saddle height for people over 6ft
Wide seat
---
2. Cyclace Magnetic Exercise Bike Stationary
Super sturdy and offering one of the most comfortable riding experiences money can buy, Cyclace have found a delicate balance between design and functionality. Sporting a 2-way adjustable non-slip handlebar, a 4-way padded seat and a large range of resistance, you can work your muscles, enhance your endurance and lose weight at the same time.
Cyclace has gone a step further by including adjustable cage pedals for added protection and a resistance bar to stop the flywheel immediately if things get too fast! With the handy LCD monitor to hand, you can track your progress, time, calories and more, giving you an amazing all-around experience.
Pros
Stable, smooth and quiet ride
Adjustable seat, handlebars and a good range of resistance
LCD monitor to track progress
330lbs weight capacity
Excellent safety features, such as adjustable cage pedals
Online instruction videos for easy assembly
Cons
Entry-level piece of kit
The occasional disparity in calories burned
---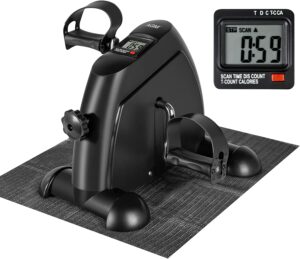 At first glance, the AGM Mini Bike doesn't look like any of its contemporaries on this list. First off, it's super compact.
So you can get all the perks of a traditional magnetic exercise bike from the confines of your office desk!
Perfect for those with limited mobility or wanting to increase their strength and endurance with minimal effort. So sit back, relax and get pedalling while you watch your favourite TV show.
Pros
Compact and portable design
Lightweight and easy to carry
Adjustable non-slip pedals and straps
Multifunction LCD display to track all your progress
Adjustable resistance for a customised experience
Perfect for beginners, limited space and rehabilitation after injury or surgery
Cons
Small foot pedals
Limited capabilities – not for those wanting to push themselves to the max
Hard to maintain speed
---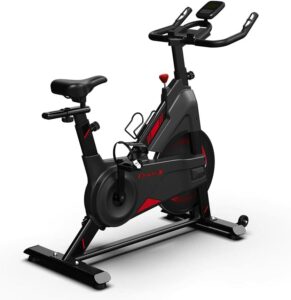 If you are looking for one of the perfect exercise bikes with magnetic resistance, then look no further.
Dripex excels at making professional-grade equipment for a fraction of the price, and this 2021 upgraded version is no different.
Super silent and equipped with a bidirectional resistance adjustment bar, you can raise your endurance and stamina game in no time. With its heavy-duty steel frame and 20 lbs flywheel at your mercy, as well as its highly adjustable seat and handlebar, you'll struggle to find a better machine on the market.
Pros
Outstanding stability from the heavy-duty steel frame and 20lbs flywheel design
Adjustable magnetic resistance and super silent ride
Reduced exercise fatigue with 11-level adjustable permeable seat
Track all your progress and improve your PBs
Easy to transport – exercise anytime, anywhere
Cons
Occasional inaccurate readings from pulse monitor, i.e. speed, calories burned, miles, etc.
Nuts and bolts need tightening after each use
---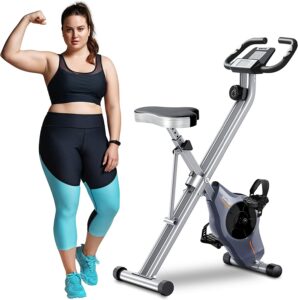 If you're looking for a magnetic resistance exercise bike that not only looks the part but offers a wide range of must-have features, then looks no further.
The BCAN comes with a hyper-quiet magnetic drive so you can exercise to the max regardless of which resistance level you choose without disturbing anyone else and seven adjustable height levels.
With its super sturdy triangular structure design and ability to hold up to 330 lbs, you get a lot of bang for your buck with the BCAN.
Pros
Hyper-quiet magnetic drive system with 8-levels of magnetic resistance
Lightweight and easy to carry
90% pre-assembled
The flexible design features 7-levels of height adjustment
330lbs weight capacity
Easy-to-read LCD monitor
Anti-skid tablet holder – enjoy all your entertainment as you exercise!
Cons
Occasional inaccurate readings due to sweat buildup
More pricey than others on this list
---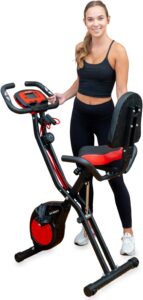 The newly upgraded YYFITT 2-in-1 allows you to adjust the settings between upright and semi-recumbent so you can get a whole-body workout from one machine.
What's more, the XL adjustable backrest offers full back support so you can exercise in comfort.
With its compact and foldable design, you can simply pop the bike away when you're done and exercise wherever you feel most comfortable in your home.
Pros
2-in-1 design for upright and semi-recumbent exercise
16 levels of magnetic resistance
Xl adjustable backrest for full back support
Compact and foldable design
Includes arm resistance bands for a full-body workout
Track progress as you exercise
Cons
Not suitable for anyone over 120kgs
Will need extra help during assembly
Nuts and bolts need to be regularly tightened
---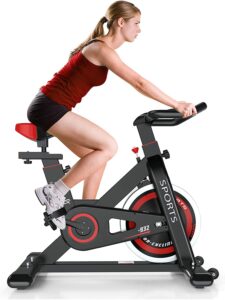 Boasting innovative design and almost infinite magnetic resistance, the Dripex wouldn't look out of place at your local gym.
Equipped with a bidirectional resistance bar, you can quickly build up your stamina and increase your endurance, all while giving yourself the most efficient workout by keeping tabs on your progress.
Highly versatile, you can customise the Dripex to accommodate your height by simply adjusting the saddle and handlebars. What's more, you can exercise to your heart's content with the unbelievably quiet belt-driven system working its magic!
Pros
Heavy-duty steel frame construction for stability and safety as you ride
LCD display monitor and pulse sensor
Flexible, adjustable resistance
Peddle to the max without making a noise
Customise for your comfort: 6-level adjustable handlebars and saddle height
Cons
Users over 5ft 11 may struggle
Metric speed display
Higher-end of the budget
---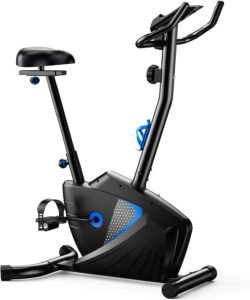 Regularly featuring in the "Amazon's Choice" category, the Winnow is a budget-friendly magnetic exercise bike that offers you a full-body workout from the comfort of your own home.
With its internal magnetically controlled flywheel, you can exercise to the max without damaging your joints and produce minimal noise while you do it.
The Winnow also offers eight resistance levels for you to choose from to imitate everything from a flat road to a mountainous slope. So whether you're just starting out or wish to improve your endurance, the Winnow is well worth a look.
Pros
Full body workout
Very quiet to ride
Magnetic resistance increases strength and minimises joint pain
Durable and sturdy structure
Budget-friendly
8 resistance levels
Cons
Not suitable for users 6ft plus
Resistance is limited
---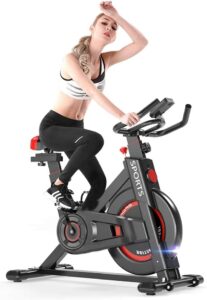 Sporting a heavy-duty triangle mainframe, an incredibly comfortable seat and adaptability to most heights, the iPro delivers on style and substance.
It also allows you to adjust the tension levels via the bidirectional resistance bar, so you can take it steady or wheel like a bat out of hell!
Designed to keep you comfortable and safe, the iPro's sturdy and innovative design will make you come back time and time again to beat your previous record!
Pros
Heavy-duty triangle mainframe supports up to 330lbs
Minimal noise as you ride
Adjustable and comfortable 8-level adjustable seat and 6-level handlebar
Multi-function LCD Display to monitor your progress in real-time
Flexible resistance allows you to exercise at your leisure
Easy and quick assembly
Cons
Basic computer
Nuts and bolts need tightening after each use
---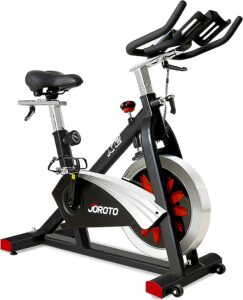 One thing's for sure. The Joroto X2 is a formidable machine.
Sporting a 35lbs chromed flywheel, a rock-solid build, and making zero noise as you exercise, this magnetic exercise bike would be a welcome addition to anyone's at-home gym.
Perhaps its only downside, the Joroto X2 comes with a hefty price tag, but the payoff is huge. You get one of the smartest and most innovative machines that will fully support your fitness journey no matter what your ability.
Pros
A rock-solid build can support up to 300lbs
Stable on various surfaces
Whisper-quiet ride
Fully adjustable wide seat and handlebars
Adjustable resistance for any workout level
Multi-use holder supports tablets, smartphones,s and more
Keep track of real-time progress via the LCD monitor
Cons
Not budget-friendly
Minimum and maximum resistance settings are not easy to see
---
How Do Magnetic Exercise Bikes Work?
A few things must happen for magnetic resistance to exist, and as you might expect, magnets play a role in this process. A typical design consists of two strong magnets parallel to one another, with the flywheel sandwiched between them. The metal flywheel, which acts as a conductor, in this case, spins through the magnetic fields of the two magnets and the force around them.
This magnetic field drags on the metal flywheel, resulting in an eddy current. The whirling motion of an eddy in a stream gives rise to the term eddy current. The energy current travels perpendicular to the magnetic field in a closed-loop circuit. The magnets travel closer or farther away from the flywheel as the resistance knob is turned to increase or reduce resistance. The closer the magnets are to the flywheel, the stronger the magnetic field, and hence the greater the resistance felt on the bike.
Magnetic Resistance Exercise Bikes – Common Problems & Issues
Belt – Although this model requires less maintenance, belt issues do occur. One of the most typical complaints is that when the belt on a magnetic resistance bike wears down, it begins to stretch. A stretched belt will cause sliding and is generally replaced by a technician because it is more difficult to replace than a regular chain drive.
Magnets – If a rider is unable to get the desired resistance when twisting the resistance knob, there may be a problem with the magnets. The magnets on a magnetic resistance bike are propelled by a cable. The cable can become slack over time and must be tightened to ensure appropriate magnet alignment with the flywheel.
What to Look for When Buying Magnetic Exercise Bikes?
When shopping for workout equipment, it might be difficult to know what to look for. Aside from the sort of resistance mechanism, indoor cycling bikes include a variety of features. We've produced a guide below to assist you to figure out what to look for when buying indoor magnetic resistance exercise bikes.
1. Drive System – The component of the cycle that connects the flywheel and the pedals is referred to as a drive system. Indoor cycling cycle's drive systems are either a belt or a chain drive system. In earlier cycling bikes, a chain drive mechanism is standard. These systems simulate the sensation of riding an actual outside bike, although they require a bit more upkeep than the other alternative. Seasoned outdoor riders frequently prefer this arrangement to a belt drive. Belt drives are becoming more popular in the indoor cycling sector. Belt drive systems provide not only a smooth but also an exceptionally silent ride.
2. Flywheel: Front or Rear? – A flywheel is a metal wheel found at the front or back of a bicycle. As the pedals continue to revolve, this component rotates. A smoother ride is related to a heavier flywheel. Aim for a front flywheel weighing more than 25 pounds but less than 50 pounds. A heavier flywheel requires more initial effort to set in motion.
With this style of the flywheel, motion is easily sustained while resistance is elegantly applied. The front of the cycle has heavier flywheels. Because of the increased risk of perspiration erosion, having a front flywheel raises the probability of greater maintenance expenditures. Lighter quality flywheels with a smooth rides are starting to appear on the market. A smooth ride is possible if the flywheel rotates quicker than the pedal stroke. Flywheels that are lighter might be located at the front or back of the cycle. Cycles with the flywheel at the back of the bike have been proven to have less sweat erosion.
3. Indoor Cycling Apps & Connections – Many new features improve the riding experience at home. Bikes with Bluetooth connectivity make it simple to link the cycle to your smartphone or tablet. A range of apps makes the class riding experience enjoyable at home. Zwift ($15/month), Peloton ($13/month), Variis ($40/month), and Sufferfest ($15/month) provide a distinct riding experience that includes inspiring instructors and tough rides. It is vital to remember that if you attend an online class that tells you what resistance level you should ride at, you must recognize that resistance levels differ between bikes.
Final Thoughts On Magnetic Exercise Bikes
It is difficult to find the perfect magnetic exercise bike for you because there are so many on the market. You can't go wrong if you take your time looking and make sure what you acquire suits your budget and expectations. We hope you liked our article on magnetic exercise bikes and are now easily able to choose your favourite exercise bike from the above-mentioned list.
Some FAQs On Magnetic Exercise Bikes
Q1. Are magnetic Exercise bikes better?
Magnetic exercise bikes are not always superior. It all boils down to which qualities are most important to the owner. They are, for example, slightly quieter than friction-resistance bikes and require slightly less cycling maintenance. When care is required, however, it is frequently necessary to seek outside aid. Furthermore, magnetic spin bikes do not simulate outdoor cycling since there is a lag between turning the resistance knob and feeling the new resistance level.
Q2. Are magnetic exercise bikes quieter?
Yes, because they feature a belt-drive system, they are generally quieter than other resistance systems. Furthermore, unlike friction resistance systems, the magnetic resistance components do not come into touch with one another and so do not make a rubbing noise.