After months of uncertainty and gym doors finally starting to reopen up and down the country, there has been a resurgence in at-home gymming like never before. So what better time for Dripex to release their newly updated magnetic resistance indoor exercise bike! 
Sleek, highly sophisticated, and boasting a design that wouldn't be found far from your local fitness suite, Dripex has pulled out all the stops with their latest upgrade. For one thing, it barely whispers a sound no matter what resistance level you choose. Then there are its triumphant weight-bearing capabilities of up to 330lbs to consider.
Made from a solid steel construction, with an angular yet modern design, there are plenty of reasons why Dripex dominates the best-sellers lists. Read on to see for yourself about Dripex magnetic resistance indoor exercise bike review:
Pros:
Highly sophisticated modern design
Can support up to 330lbs (21 stone)
Adjustable magnetic resistance suitable for any level of fitness
A flexible and versatile system that adapts to your needs
Full body workout
Super silent ride
Track progress in real-time with LCD monitor display
Cons:
Higher-end of the budget
Display information can be inaccurate
Can't fold once fully assembled
Occasional quality issues
Dripex Magnetic Resistance Indoor Exercise Bike First Impressions
Bold, eye-catching and boasting a professional build quality that surpasses most of its contemporaries, Dripex have left no stone unturned with their 2021 updated model. Just looking at the bike's steel construction frame, you can see why its solid construction is worthy of its claim to support up to 21 stone. 
Fully adjustable, the Dripex allows you to move and secure the seat (9 different levels) and handlebars (5 different levels) to give you optimal comfort as you exercise. But, even the Dripex has its limitations. The makers themselves recommend that only users between 4 ft 9 and 6 ft 1 use their innovative machine. Well, you can't please everyone, after all.
You'll find a super comfortable, air-permeable seat to give you the extra support you need when sitting and a welcoming platform after standing sprints. What's more, you can keep an eye on your progress via the helpful LCD monitor so you can improve on your previous speed, distance and calories burned. 
Despite its impressive display of gizmos, high-end design and moveability, the Dripex doesn't fold. So if you are short on space, that's worth bearing in mind. 
Smooth spinning
Budget exercise bikes usually suffer from their lack of machinery. But that's where Dripex shines bright. 
Dripex's star player is its 35lb flywheel. Powerful and smooth, the magnetic belt system allows you to ride to the max without making a whisper of sound. Perfect for shared accommodation and restless nights within your household. In short, the big flywheel ensures that everything runs predictably at low speeds and offers good resistance at the top end. So as you build up your overall fitness, this innovative feature will become increasingly more useful as you progress.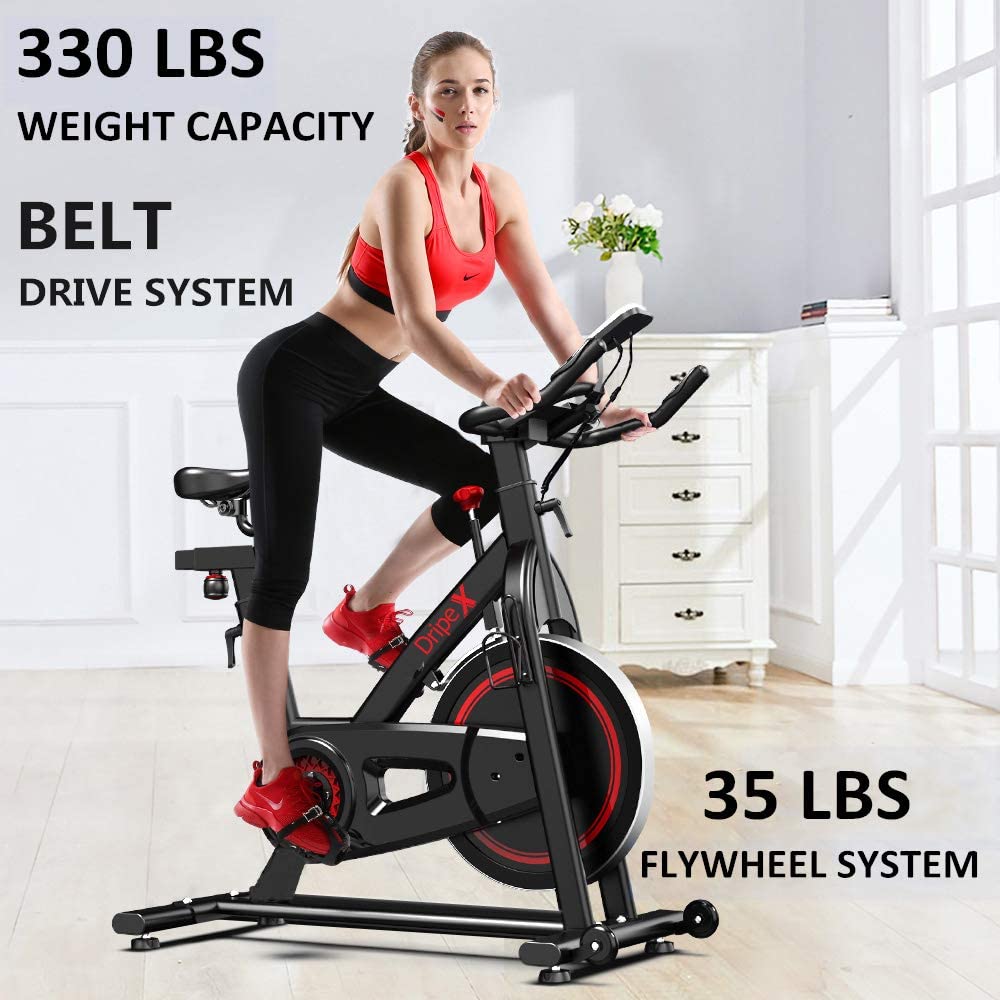 Resistance control, although incredibly flexible, takes a lot to increase when you want to come out of the saddle to climb. It will be a frustrating for some to have to put three or four full turns on each time, but it's certainly not a dealbreaker. 
Outstandingly stable due to its heavy-duty triangle mainframe, no matter what speed you are going, you can rely on the emergency brake system to make you stop when things are getting a bit hairy in the fast lane!
Standout multi-function console
We're not going to lie; if you're expecting a flashy touchscreen or an app-compatible system to be part of this Dripex system, you won't find it. Instead, you get a clear console that will help you keep track of all the key information you need to push yourself to the next level. There you can track everything from calories burned, speed, distance and time and see how you are improving over time. 
Built-in pulse sensors keep track of your heart rate, allowing you to see how well your cardio progress is going. Although some of the tracking data can be slightly inaccurate, such as distance travelled and speed, there's alot to be said about seeing your fitness levels improve.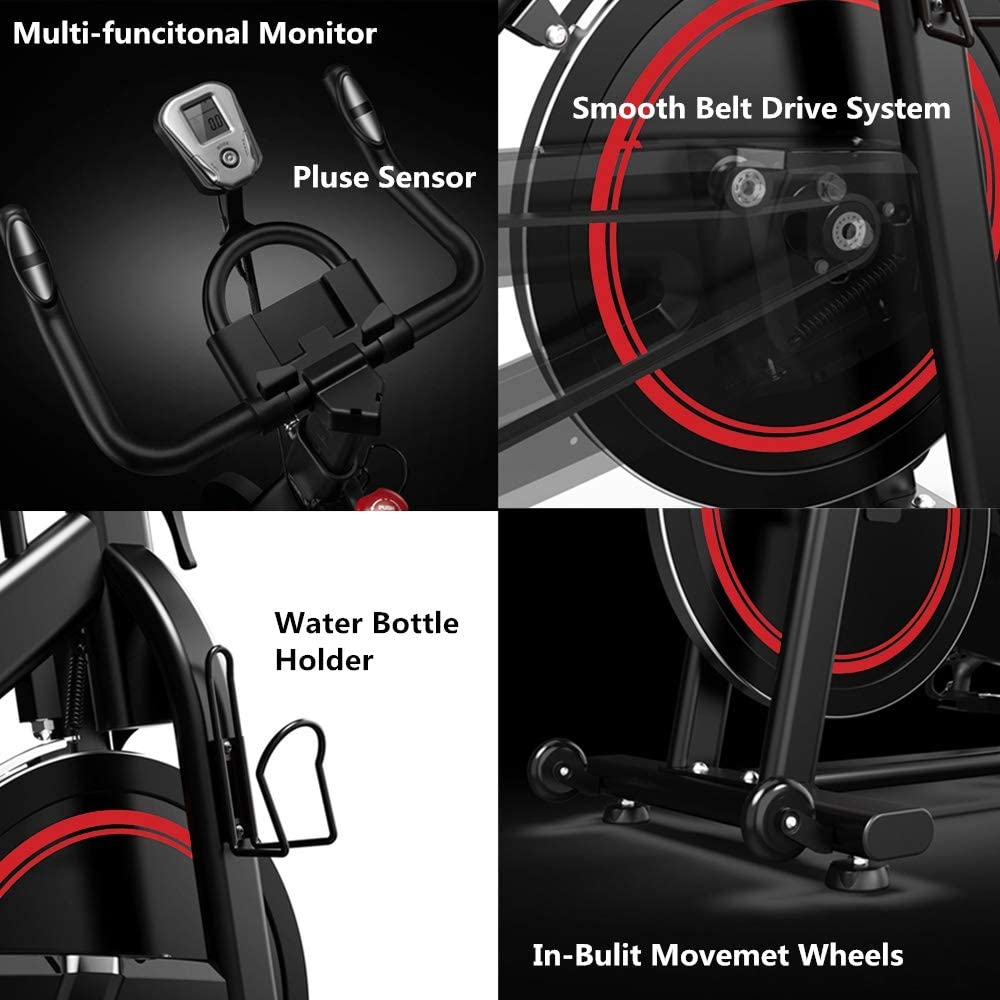 Pop on your favourite movie or catch up with the latest bingeable series as you workout to give you all the motivation you need to reach your fitness goals. Perfect if you ask us!
Ride in comfort
Fatigue can be a real burden for some as they take on higher levels of exercise and start to think about the next steps of their fitness journey. Fortunately, Dripex have designed a large breathable seat that has nine adjustable levels for you to choose from, giving you all the extra comfort you need as you ride. 
What's more, you can also adjust the seat forward or backwards to give you extra support whether you are riding sat down or standing up. Throw-in the five level adjustable handlebars and you've got the perfect set-up. 
Final remarks
The newly updated Dripex magnetic resistance exercise bike is a massive triumph for a budget brand. It holds its own with its powerfully made design matched with a heavy flywheel that will make even the world's biggest brands stop for pause. Throw-in its incredible versatility and easy to adjust seat and handlebars and you'll struggle to get more bang from your buck elsewhere.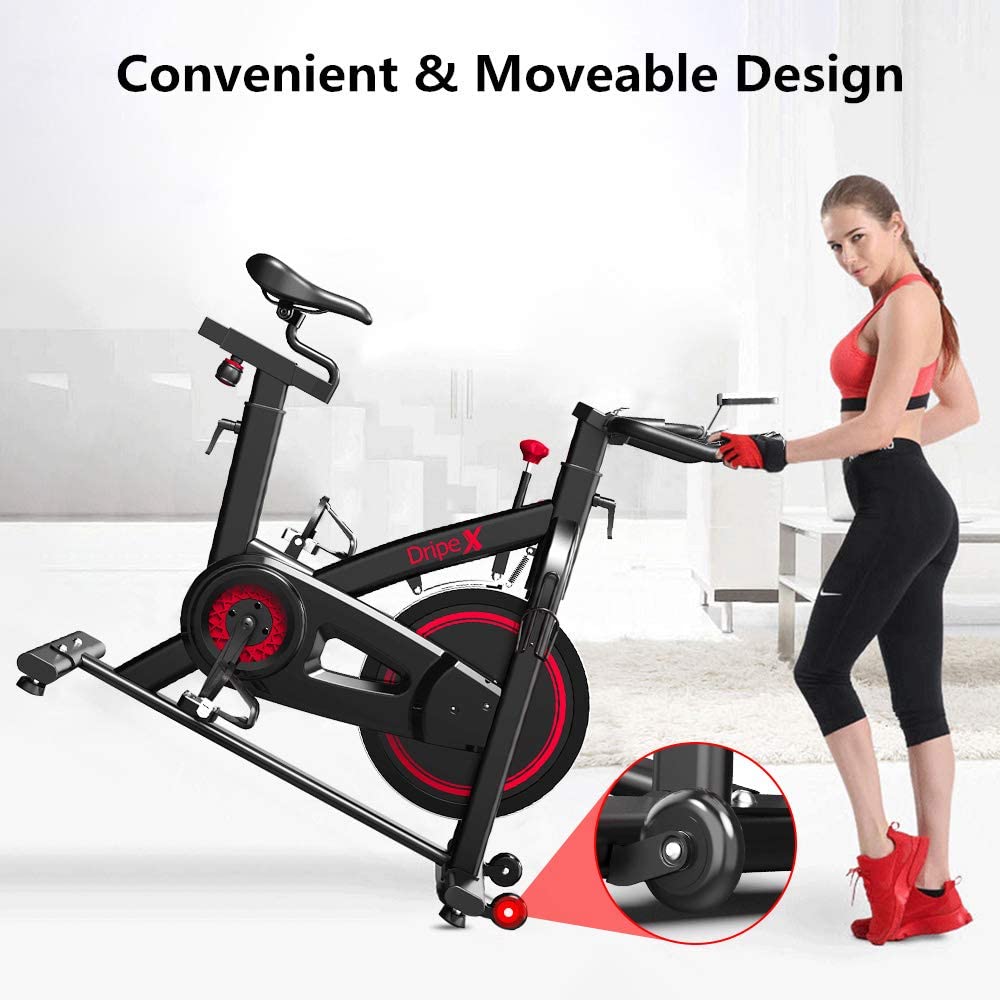 Resistance levels can be a deal breaker for some riders. But with the Dripex, you can exercise at your own pace with minimal effort. The only snag comes when you want to move from saddle to standing – due to the slightly fumbly turning device to raise resistance. However, this is a minor drawback that will not haunt most users radar.
Despite its massive 35lb flywheel, you will experience little noise as you ride due to its incredibly quiet magnetic adjustment system as you gain momentum. 
In short, Dripex hold their own. This exceptional piece of kit is not only budget friendly but it offers a riding experience worthy of high-end gyms.