Yoga has been practised for millennia, with roots in ancient tradition and folklore. The first yogi, according to legend, was Shiva, who sought enlightenment on Mount Kailash.
The spiritual revolution began with the establishment of the seven rishis. In the current day, yoga has become a cornerstone of health and fitness across the world. There are a few simple objects that can help you unify your body, spirit, and mind. So, without further ado, here is our definitive list of the greatest yoga basics available.
Our Handpicked Collection Of Affordable Yoga Essentials For Beginners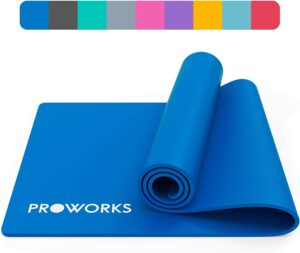 There's a lot to like with the Proworks Yoga Mat. Not only is it durable, comfortable and won't have you slipping around as you do the downward dog, but it is designed with the user in mind.
Made from premium NBR foam, this mat offers maximum user-friendliness. With an additional non-slip grip underneath, you can rest assured that you won't have to worry about curling edges.
Sweatproof and waterproof, the Proworks Yoga Mat is easy to keep clean and hygienic. With its additional portable carry strap, you can easily sling it over your shoulder to get to your next class.
Pros
Specially designed padded workout mat for optimal comfort and support as you exercise
Suitable for indoor and outdoor use
Easy to set up, quick to unroll, and stays perfectly flat on the floor
Convenient strap holder included for easy storage and transportation
Non-slip with grip bottom
Made from eco-friendly materials
Cons
Slightly narrow in width
Thicker in-depth than your standard mat at 10mm
---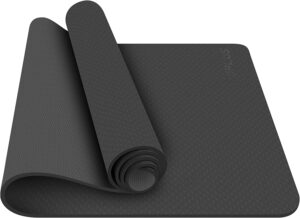 Strikingly designed, the TOPLUS Yoga Mat is undoubtedly a statement piece. With its distinct mandala design, the TOPLUS certainly fits the bill and will instantly boost your positive mood.
Generally the non-slip is suitable for most studios and gyms; however, the shinier the floor, the harder it will be for this mat to stick.
Easy to roll and lightweight, there's a lot to like with this yoga mat. With its quick spring-back material, the TOPLUS is a welcome addition to any serious Yogi's kit.
Pros
Made from TPE – eco-friendly material
Optimal non-slip grip from the double-layer structure design
Lightweight and easy to carry
Quick spring back
Comfortable and offering excellent cushioning for all level Yogis
Beautiful mandala design
Cons
The non-slip promise won't take on all floor types!
Colour may not be as described
---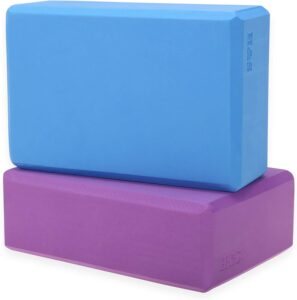 When you're attempting an advanced Yoga position, you can feel the demand on your body. To ease the pressure, using a block can reduce the stress and subsequent pain that make greet you after a workout.
The H&S High-Density EVA Foam Brick is designed with a non-slip surface to give you the traction boost you need to carry out the tricker moves. Built with high-density EVA foam, the H&S Brick will be a long-term addition to your kit.
Although the bricks themselves are made from eco-friendly, non-toxic materials, you may be surprised by the amount of plastic used for delivery!
Pros
Non-slip surface for extra traction
Superb balance and alignment for all levels of expertise
Made from high-density EVA foam – strong and durable for holding up the most demanding poses
Made from non-toxic and eco-friendly materials
Assists more advanced poses safely to reduce stress and pain to your body
Cons
Slight sponginess to material that may make you feel unbalanced
Despite the eco-friendly statement, bricks arrive wrapped in plastic!
---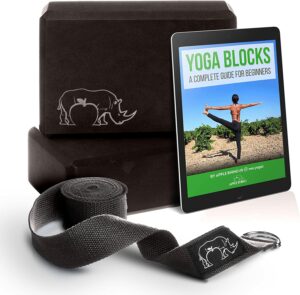 There is little to fault with the Apple Rhino Premium 2nr Yoga Blocks and Strap set. They are thoughtfully engineered by a company that clearly understands the fundamentals of asana alignment and balance.
With the additional e-book included, every level of practitioner has been taken into account.
Soft, durable and comfortable to work with, these yoga blocks are worth the investment. That's before you even consider the professional standard organic cotton strap that is included!
Pros
Increases your flexibility and endurance
Improves your asana alignment and balances
Comes with an additional e-Book – A Complete Guide for Beginners
Extremely durable and lightweight design to withstand the most demanding yoga poses
Organic cotton strap for easy transportation and additional movement support
Made from 100% non-toxic materials
Cons
The strap and mat don't match
---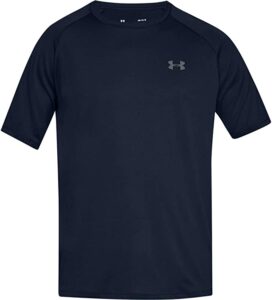 Uniting comfort and style, the Under Armour UA Tech 2.0 Short Sleeve Tee is great for the passionate athlete and developing Yoga enthusiast.
Made from a lightweight and breathable material, you won't overheat in this Tee. Adapting with you, the UA Tech Tee is quick-drying and is made from an anti-odour fabric.
This Tee comes in a loose fit, which for some comes up a bit more baggy than expected. However, as far as feeling free to pull your next yoga pose, this Tee won't restrict your movements.
Pros
Natural feel fabric
Quick-drying and ultra-soft
Light, breathable and durable
Anti-odor fabric
Cons
Loose-fitting – go down a size for a tighter fit
Gapes round the neck
---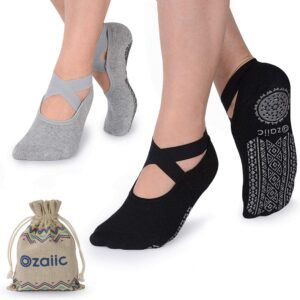 Made from natural combed cotton and with their innovative non-slip grip design, it's easy to like Ozaiic Yoga Socks.
Not only do they offer additional protection to your feet, but they also give you greater balance as you take on advanced yoga positions.
Soft and comfortable, your feet will feel the benefits of the Ozaiic as they are more substantial than your standard sock. With the additional elasticated straps, you can feel at peace with your feet safe and secure.
Ozaiic Yoga Socks only come in a size fits. However, don't let that put you off! Most users have an excellent overall experience and wouldn't leave home without them.
Pros
Stylish and comfortable, you can feel confident in every pose you make
Anti-skid and non-slip ballet-inspired socks
You can feel stable and hold your balance on any surface
Breathable and flexible design
Features elastic straps for a secure fit
Cons
One size fits all – Size 2.5-9
---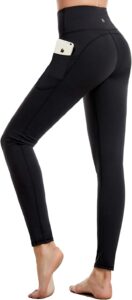 Incredibly comfortable and designed with keeping your dignity intact, the Cambivo Yoga Leggings are a well-thought-out addition to any yoga enthusiast.
The compression combined with the high-waisted band makes pulling off some of yoga's more tummy-revealing moves less of a stress.
Including three pockets, you can store credit cards and your phone without any worry. One thing to bear in mind is sizing. So make sure you take a careful look at the size chart before ordering!
Pros
Made with comfort in mind – using super stretchy Polyester and Spandex
Breathable 4 Way Stretch Fabric provides you with compression and flexibility
Stylish and performance-driven design
No-slip yoga leggings that stay in place as you move
Skin-friendly fabric with light-blocking technology, so you can stretch with confidence!
High-waisted design with additional tummy control
Cons
Need to consider sizing carefully before ordering
Can come up a little loose around ankles
---

Overall the NB Tracksuit Bottoms fit like a second skin. They give great support and mobility to help get the best results out of your yoga session.
With the additional drawstring around the waist, you can be rest assured that these bottoms will stay firmly in place as you stretch.
Made from a supersoft, lightweight material, the NB Tracksuit Bottoms are super comfortable to wear. Bear in mind that due to their lightweight, thin design, the fabric can wear down after usage.
Pros
Made from lightweight and soft breathable fabric
Comes with a belted fastening to keep in place around your waist
Drawstring included for additional hold
Versatile sportswear – suitable for yoga, pilates, workouts, dinner!
Cons
Made from thin material
Can come up long in the leg
---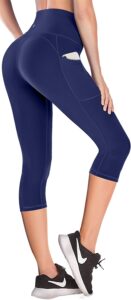 A great all-rounder, Ewedoos Yoga Pants are great value for money and offer on-trend style and comfort suitable for any workout or fitness regime.
With the non-see-through 4-way stretchy fabric, you can rest assured that you won't lose any dignity points when pulling off your most tricky yoga pose.
Performance and functionality are at the heart of the Ewedoos design. The sweat-wicking material will let your body breathe as you move. What's more, the streamlined fit and sculpting compression design will allow you to squat without a worry in the world!
Pros
Stylish and comfortable – made from a non-see-through 4-way stretchy fabric
Affordable and accessible for all workout types
Convenient pockets to store your phone, credit card, etc.
Features high-waist, tummy control waistband to contour body shape
Designed with functionality and performance in mind
Cons
Do your research on sizing before ordering!
---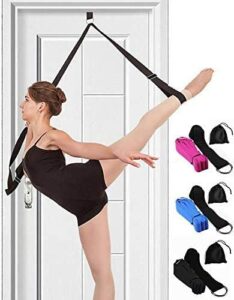 For those wanting to increase their flexibility and range of motion, the Leg Stretcher Band is a welcome addition to your yoga essentials kit.
It's proven to safely stretch your hamstrings, quadriceps, and hip flexors when used consistently as part of your training regime.
Coming in at only 220 grams, you can pop the band into the pocket of your gym bag to take with you on the go. What's more, a Leg Stretcher Band is a perfect gift for any of your yoga, dance or gym-loving friends!
Pros
High quality and specially developed by professionals
Noticeable improvements to leg stretch and range of motion with consistent use
Built with a soft attachment that firmly attaches to your door
Great gift for any yoga, gym or dance enthusiast
Quick to instal and easy to use
Portable and lightweight kit
Cons
Limited instructions included
---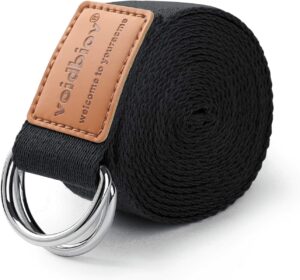 If you are feeling frustrated with your flexibility investing in a yoga strap or belt can do wonders for increasing your movement range.
The Voidblov Yoga Strap is great for exercising your waist, arms, legs and back without causing any damage to your ligaments and muscles.
Used by all levels of practitioners, a yoga strap can help you stretch and relax into a pose more deeply and effectively. With its high tensile-strength weave, the Voidblov is built to last. It's also super comfortable on your hands and feet and will quickly build your confidence.
Pros
Expands your stretching range to achieve more challenging yoga positions
Easy to use and simple set-up
Anti-slip double D-ring buckle design for stability
Durable soft and sturdy cotton material that won't lose its shape or dig into your hands or feet
Cons
The belt length can come up on the small side for some users
---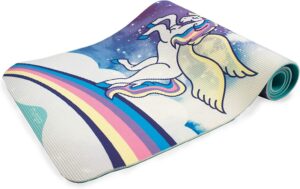 Perfect for inspiring your children to take up yoga, the Myga Childrens Yoga Mat is designed with your child in mind.
With its eye-catching fun design to the 8 fundamental yoga poses printed on the underside of the mat, the Myga is a perfect teaching tool.
The non-slip, textured surface will help your child keep their footing while mastering the most advanced yoga poses. What's more, your child will feel safe and secure as they become a confident yogi with the Myga. Whether you and your child share a yoga experience together at home, or they go to a studio or gym to practice, your child can easily carry the Myga from A to B.
Feeling inspired and motivated to build your essential yoga kit? Why not take some of our recommended products for a spin and build your confidence in one of the world's most ancient and timeless practices!
Pros
Striking and eye-catching design with children in mind
Excellent fitness tool for any growing yoga kit
Made from non-slip PVC to help your children keep their footing
Child-friendly and safe
6mm thickness to provide extra comfort and support
Hygenic and easy to clean
Easy to remember 8 fundamental yoga poses printed on the reverse of mat
Cons
Print will start to fade/rub off after longtime usage
---
Final Thoughts On Yoga Essentials
Are you feeling inspired and motivated to put together your basic yoga kit? Why not try out some of our recommended items and gain trust in one of the world's oldest and most ageless practices? We hope you liked our article on yoga essentials and are now easily able to choose your favourite yoga essential from the above-mentioned list.
Some FAQs On Yoga Essentials
Q1. Why is yoga practised barefoot?
Bare feet assist you in maintaining your balance throughout postures. Socks can make your feet slippery, increasing your chances of slipping, and shoes can feel bulky while also limiting your ability to perform some yoga postures.
Q2. Where should I buy yoga equipment?
Yoga equipment is available from both online and offline businesses, as well as athletic goods stores. Reading the reviews before purchasing ensures that you are obtaining a product that fits your desired requirements and degree of quality.
Q3. How much does yoga equipment cost?
It is dependent on what you are purchasing, the brand, and where you are purchasing the equipment. Shopping around allows you to receive the tools you want while keeping inside your budget.
Q4. How do I store yoga gear?
The best method to keep any workout equipment, including yoga gear, is to follow the manufacturer's recommendations. Because the manufacturer is the most knowledgeable about its products, following its rules can maintain your gear in top form for extended periods of time.