Lockdown had been difficult for everyone. People had lost their jobs, and loved ones, or became their child's teacher at that period. Then along came Joe Wicks and a slew of amazing fitness routines, home workouts, HITT courses, and more won the hearts and minds of people all over the world.
The yoga mat business grew, and some of its star performers, such as the TOPLUS yoga mat, became the season's must-have mat.
Furthermore, a yoga mat is useful for more than simply yoga. It's one of the most adaptable pieces of equipment for any at-home or studio gym activity.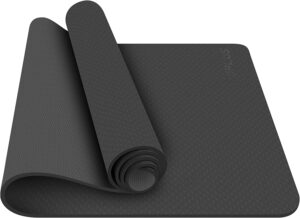 The TOPLUS yoga mat is brightly coloured and visibly well-manufactured right out of the box. There's also a handy tiny towel supplied, which won't assist you much in a heated sweat but is still a lovely bonus.
TOPLUS is a firm believer in keeping things simple. The emphasis of their whole design is on user-friendliness, supporting environmental care through the materials utilized, and allowing you to have a comfortable and worry-free workout.
A yoga mat seems to be a slightly cushioned piece of homogenous cloth on the surface. But there's much more going on. There is a mix of smooth surfaces that provide adequate grip to exercise safely and texture that allows you to work out pleasantly. Surprisingly, the TOPLUS is located between the two. When paired with its double-layer construction and non-slip fabric, you get a fantastic grip and cushioning.
Yoga mats differ greatly. Premium mats may cost up to £100, but if you don't want to spend that much, the TOPLUS Yoga Mat is the one to get. It is not a popular selling product for no reason.
1. The TOPLUS Yoga Mat Has Just The Right Thickness
Since its debut in 2019, the TOPLUS has received positive feedback from all corners of the internet. One notable aspect is that it is "exactly the correct thickness" for most users' exercises.
Whether you do 3-4 HITT sessions per week or want to do the most difficult yoga postures on your mat, the TOPLUS is unquestionably one of the most comfortable mats to use. The 6mm thickness provides enough support while providing optimal comfort for your elbows, knees, and hips. "I've found the mat incredibly pleasant to use, yet without being so mushy that I can't balance on it for the standing poses," one Amazon buyer commented.
However, the TOPLUS's attraction extends beyond its thickness. Its non-slip bottom keeps you from slipping about regardless of whether you have hardwood or carpet floors. Whether you're practising arm balances, deep stretches, or inversions, the TOPLUS will help you feel confident in any posture.
2. The TOPLUS Yoga Mat Is Great For Sensitive Skin
When you have sensitive skin, the materials used to make most yoga mats are the most important barrier you have. That is where the TOPLUS differs. It is hypoallergenic and free of PVC and latex. TPE, a plastic and rubber blend, is used instead. The TOPLUS is a terrific solution because it is eco-friendly and less hazardous to your skin.
When you open your mat, you won't be met with the "new vehicle fragrance," which is a plus. You also get a complimentary sweat cloth to wipe your brow should things become too heated.
3. The TOPLUS Yoga Mat is Comfortable And Resilient
The TOPLUS is extremely light, weighing less than 2.5 lbs. The TPE feel is initially perplexing, but after a few applications, you grow to adore it. Some people relate the surface to the tiles used in a gym lesson.
The TOPLUS retains its quality and looks as good as new even after months of heavy use.
The TOPLUS is undeniably not the thickest mat money can purchase. However, you feel supported. When combined with the superb non-slip grip, it's difficult to find a better yoga mat for the price.
4. TOPLUS Yoga Mat Is Easy To Clean
Working out at any level will cause a sweat, and although there will never be the ultimate mat that is fully slip-resistant and perspiration-resistant, the TOPLUS offers its best attempt.
The mat comes with its own cleaning instructions to guarantee that your mat receives the finest hygienic care possible.
All you need is warm soapy water to clean and wash down the surface. Once totally dried, let it out to dry before storing your mat. Simple.
What Are The Advantages And Disadvantages Of TOPLUS Yoga Mat?
Pros
Suitable for a wide range of exercises
Non-slip double-layer structure so you can work out with confidence
Made from eco-friendly materials
Great support and quick spring back
Lightweight and easy to carry
Cons
Material creases and marks easily
Over-sweating can make the mat slippery
Our Final Verdict on TOPLUS Yoga Mat
We can safely state that we love the TOPLUS yoga mat. Not only do you get high-end quality at a fraction of the cost, but it's also undoubtedly one of the perfect mats on the market right now.
The TOPLUS checks every box:
Long-lasting and robust
Built to last Well-planned design
Exceptionally slip and sweat resistant
Excellent value for money
Environmentally friendly and suitable for delicate skin
The TOPLUS should be on your necessary gear list if you're a kickboxer, pilates or yoga fanatic, or simply want to take the edge off a home exercise.