Choosing the perfect smartwatches for fitness is all about selecting how much you value its fitness functions against its smartwatch tools. Most flagship smartwatches provide all of the necessary functionality for beginners, but fitness enthusiasts may be disappointed.
Fitness-brand smartwatches have far superior battery life and fitness statistics, but their applications and smarts are substantially more limited, frequently foregoing capabilities such as touchscreens or mic/speakers. We've typically searched for well-balanced smartwatches for fitness that will help you work out while still providing the smarts and designs you'll want. However, we have included options that slant one way or the other to ensure that everyone's demands are fulfilled.
What Key Features To Look For When Buying Smartwatches For Fitness?
Every smartwatch on this list will measure the same basic fitness metrics: steps done, distance travelled, and calories burnt. Most will also track a wide range of sports, either automatically or manually. All will have an app that shows collected fitness data and links people to the larger community. Other important aspects (which may not be present in all models) are:
Heart rate sensor – It's becoming more usual to find fitness trackers with built-in heart rate monitoring, but double-check just in case. These models are frequently denoted by an "HR" in the product name.
GPS – To monitor your path, fitness trackers often utilize something called linked GPS. In short, they rely on a smartphone's GPS signal, contributing to the data your smartphone collects rather than tracking your trip directly. This means you can't track your run unless you also bring your smartphone. The alternative is built-in GPS, which means the gadget has a sensor. These wearables will track your run without requiring a phone connection.
Altimeter – An altimeter is required to calculate how many flights of stairs you've climbed in a day (or, more adventurously, how many flights of stairs the mountain you just climbed equivalent to).
Our Handpicked Collection Of Affordable Smartwatches For Fitness
Use this watch's built-in GPS to track your distance and pace on the screen during your outdoor rides, hikes, and runs. This watch also shows you how intense your heart rate changes along your route for a clear picture of how you're doing.
Set your target heart rate before you exercise and celebrate when you feel the buzz signalling you've made it. You can also set a step goal every day to ensure that you are hitting your weight loss goals in no time.
Fitbit uses a Bluetooth connection and is compatible with iPhone 5 and newer and Android phones using 7.0 or newer. This watch also integrates seamlessly with Spotify for a musical experience while exercising. Cue up your favourite playlist, press play, and exercise. You'll also be able to call and text through the smartphone app.
---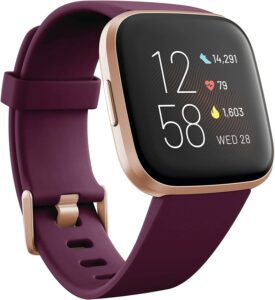 Premium watch with a slightly larger screen with now AMOLED display, which means wonderful sharp colours and brightness in the outdoors. Customize the screen to show the measurables you check most often.
You will find the Fitbit Versa much snappier than any of its predecessors. The battery will last you 5 days and there are many features to enjoy.
Check all your fitness stats at a single glance with the all-day fitness tracking feature that shows minutes active, calories burned, steps taken, distance travelled, and weekly accumulative data.
This watch also comes stocked with sleep-tracking software to ensure a better understanding of your sleep patterns, and what you can do differently to optimize rest.
The Fitbit Versa watch also includes 24/7 Heart Rate, Water resistance to 50m, App and Notifications, Music control, Amazon Alexa built-in. All to ensure you stay fit and in control of your health and wellness.
---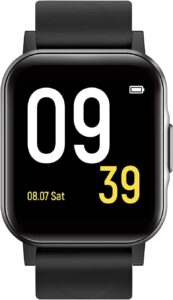 This smartwatch touts its ability to last up to 10 days on a single charge and comes with all the bells and whistles you would look for in a workout partner, including real-time statistics and a live feed of your heart rate.
Switch to a specific sport mode to monitor your favourite exercise activities such as hiking, biking, climbing, or running.
This smartwatch syncs up to all your favourite health and social apps. Use the alarm, sleep tracking, or timer mode to monitor your health and wellness. Connect your watch to your phone and take Facebook, Whatsapp, Instagram, and other social media platforms with you, wherever you go.
This watch is suitable for men and women alike, as it fits a variety of wrist sizes. The touchscreen itself is customizable, as users can pick between five different watch faces. It's waterproof, too, so you don't have to take it off in the shower, or when you go for a dip in the pool, lake, or ocean.
---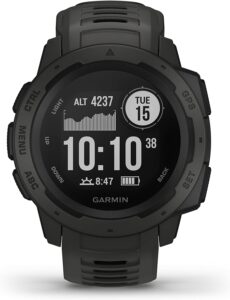 From one of the pioneers of GPS technology, this watch from Garmin is built with durability in mind.
Adhering to government and military standards, this watch was explicitly created for thermal, shock, and water resistance (up to 100 meters).
It comes with a built-in, three-axis compass and barometric altimeter. The Garmin is a rugged GPS watch built to withstand the harshest environments for down-to-the-foot GPS accuracy. This helps support tracking in challenging terrains such as hiking, backcountry trekking, extreme cycling, and climbing.
This watch comes stacked with everything you need to track your fitness, and offers easy access to your heart rate, current activity level, and stress. You'll be able to train with preloaded activity levels when you download the smartphone's app.
---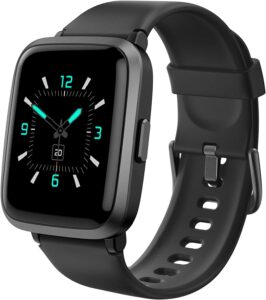 The Aikela has specifics in mind. Instead of focusing on every type of fitness monitoring, this watch focuses on certain features and does them well.
It offers round-the-clock monitoring for three critical health indicators – heart rate, blood pressure, and blood oxygen levels. By monitoring these vitals all the time, you'll better understand your body and your physical fitness needs.
This smartwatch supports nine sports modes, including running, cycling, hiking, and more. It records your daily activities, such as active time, steps, sleep, and distance travelled.
Connect your phone to your smartwatch and get all your emails, texts, and social media notifications delivered right to your wrist. With this watch, you'll get 7-9 days of life on a single charge.
---
How To Choose The Perfect Smartwatches For Fitness?
The ultimate smartwatches for fitness have several athletic and workout modes that can be used in real life, as well as extensive health and workout monitoring capabilities. It gives useful feedback and metrics that you may use. It is critical to purchase a wearable that has a heart rate monitor as well as as many additional sensors as you require for tracking your health, sleep, and stress.
Bonus features like Google Pay and third-party applications are great, but they aren't completely necessary. For your fitness demands, you require your smartwatch to function as a portable health and fitness trainer. The finest smartwatches for fitness will aid you in your exercises and measure your progress.
Should I Buy a Smartwatch For Fitness?
Identifying a few important indicators you'd like to measure is a simple approach to deciding whether or not you should acquire a smartwatch for fitness. If you want to run a 10K, the distance you can go without stopping is more important than your respiration rate.
You must consider how obtaining more granular data can help you reach your objectives. Before you buy, take a moment to write down your precise requirements for a fitness watch, followed by a list of metrics you'd like to track. Whether you're searching for a watch to help you train for a marathon or a watch to assist you to hike, you can discover a fitness watch adapted to your needs.
Closing Thoughts
We realize that selecting the perfect smartwatch for fitness might feel like hunting for a needle in a haystack. Beyond the costly Apple Watch, there are so many alternatives with the same features, fitness capabilities, and watch faces that finding the correct smartwatch for you can be difficult.
While others are simply smartwatch-shaped fitness trackers, the smartwatches described above are ideal for purchase right now. We hope you liked our article on smartwatches for fitness and now will be easily able to choose one for yourself from the list that we have mentioned above.