Going head to head with some of the best budget-friendly exercise bikes on the market is the innovative Opti Aerobic Manual Exercise Bike. It not only sports an eye-catching design, but it is incredibly user-friendly.
Designed to give you the best home cycling experience, you can ramp up your cycle workout from leisurely to intense by simply adjusting the tension levels. What's more, its neat, compact shape isn't cluttered by overbearing features or intimidating screens. Instead, you get a highly proficient machine that will support you throughout your fitness journey no matter what your ability. 
Want to know more? Here's our Opti Aerobic Manual Exercise Bike Review 2021:
Pros:
Perfect for beginners
Variable tension levels
Compact design and easy to transport
Basic console feedback to track your progress
Low impact exercise
Can support users up to 120kg/ 18 stone 13 lbs
Cons:
Complicated handlebar assembly
No clever programs
Limited resistance levels
Inaccurate system feedback
First impressions
At its core, the Opti is a basic machine. It is uncomplicated. Despite this, it is a great budget exercise bike. You get a good range of manual resistance, perfect for beginners and those wanting to steadily build up their strength and stamina. What's more, it's sleek, bright and angular design makes it look impressive in your at-home gym lineup.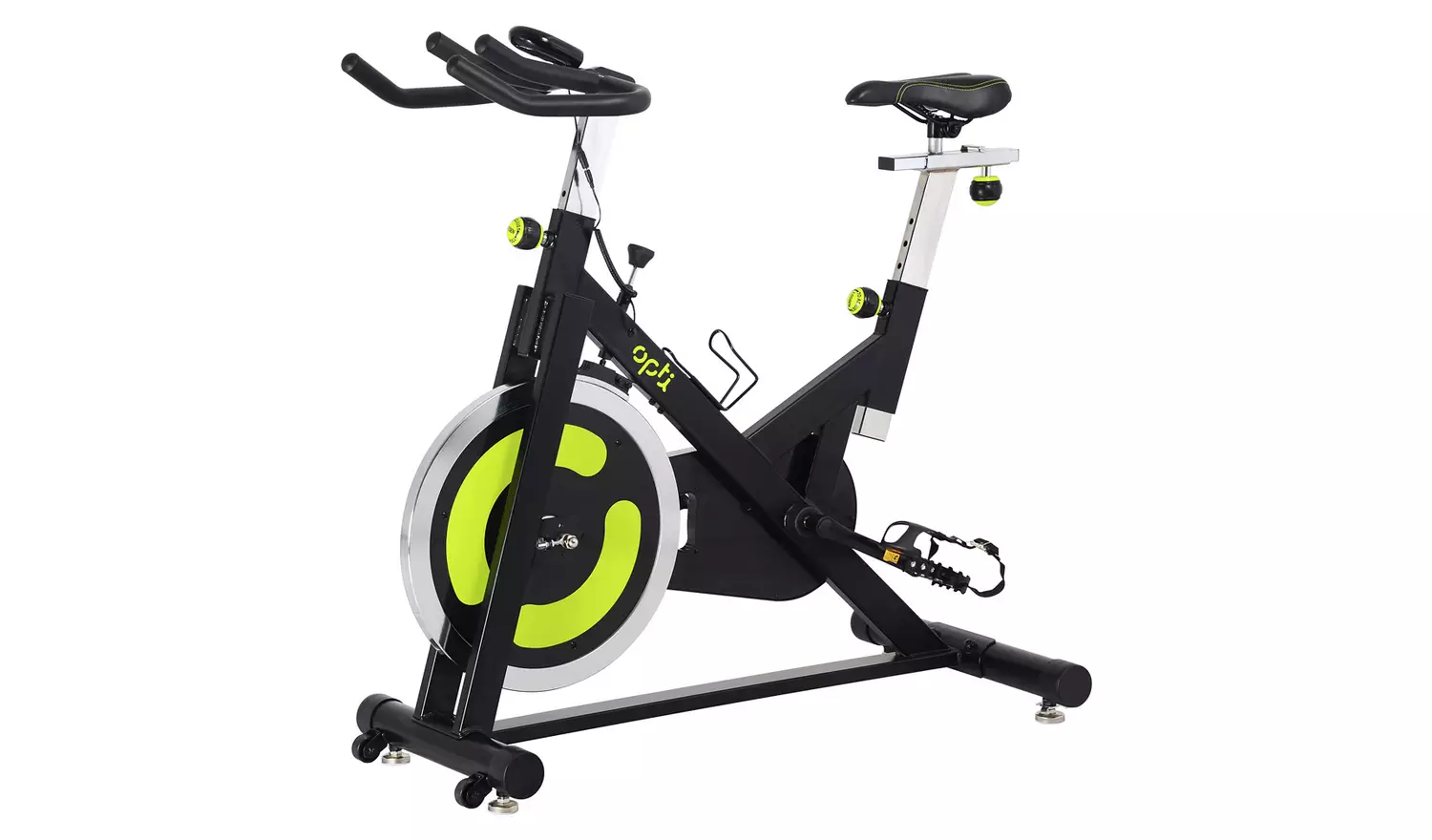 Boasting a 13.8kg flywheel, variable tension control and a respectable, if not a bit basic, console – you get quite a lot of bang for your buck. If you're just starting out or want to steadily ramp up your fitness, then the Opti is well worth a look.
Simplicity is key
One of Opti's standout features is that you can simply hop on board, set your resistance level and get pedalling to your hearts content! Then all you have to do is keep an eye on the console and track your progress. From speed, time and distance to calories burned, you can quickly learn what workout and intensity level works for you.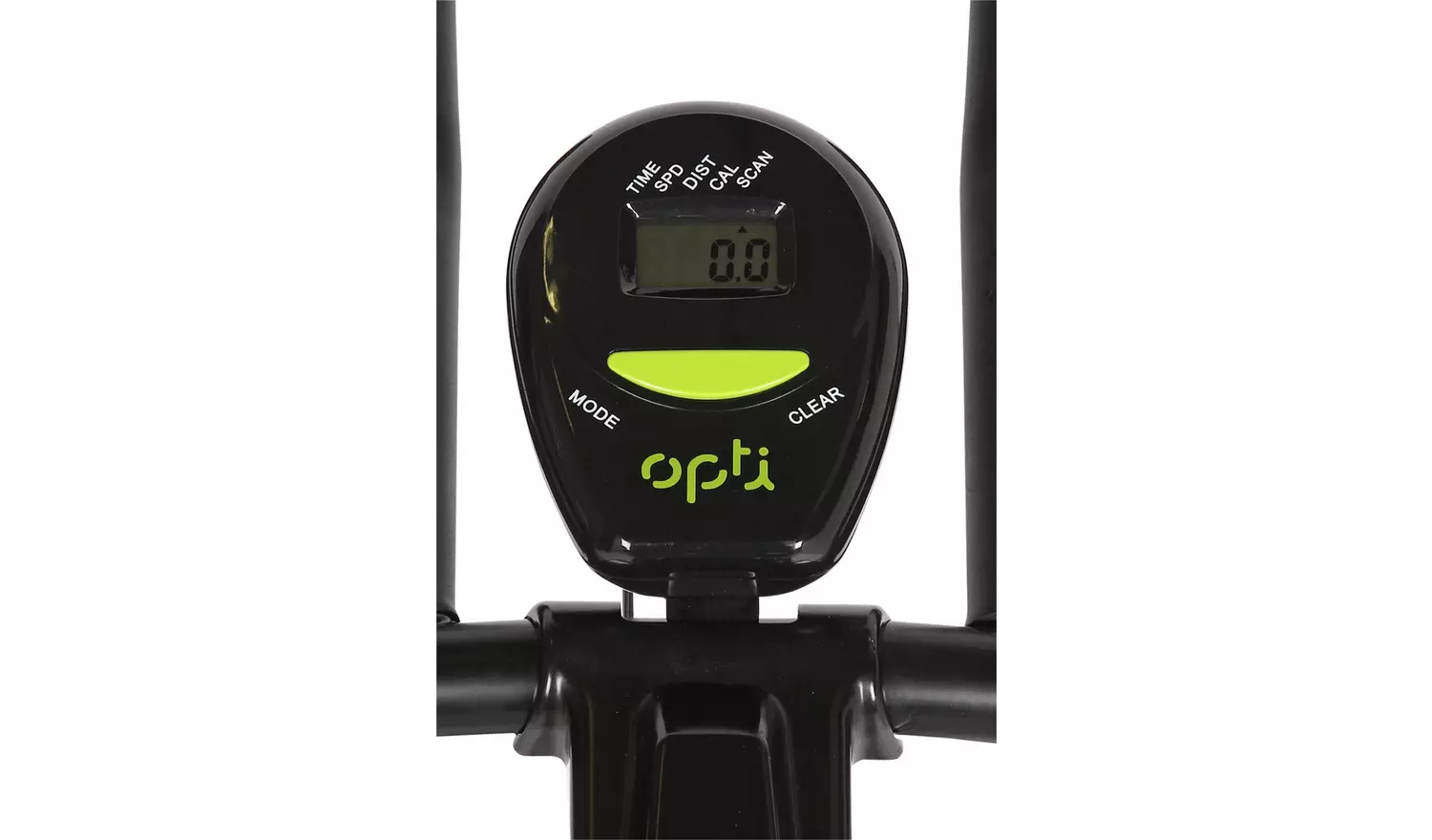 Whatever intensity you are riding at, you want to be able to enjoy a smooth, reliable and worthwhile ride. Fortunately, Opti have included a fairly substantial 13.8kg flywheel, ensuring you get enough oomph without making too much noise in the process. Despite only clocking in at 37kg, the frame is sturdy and strong enough to support up to 120kg (18 stone 13 lbs.)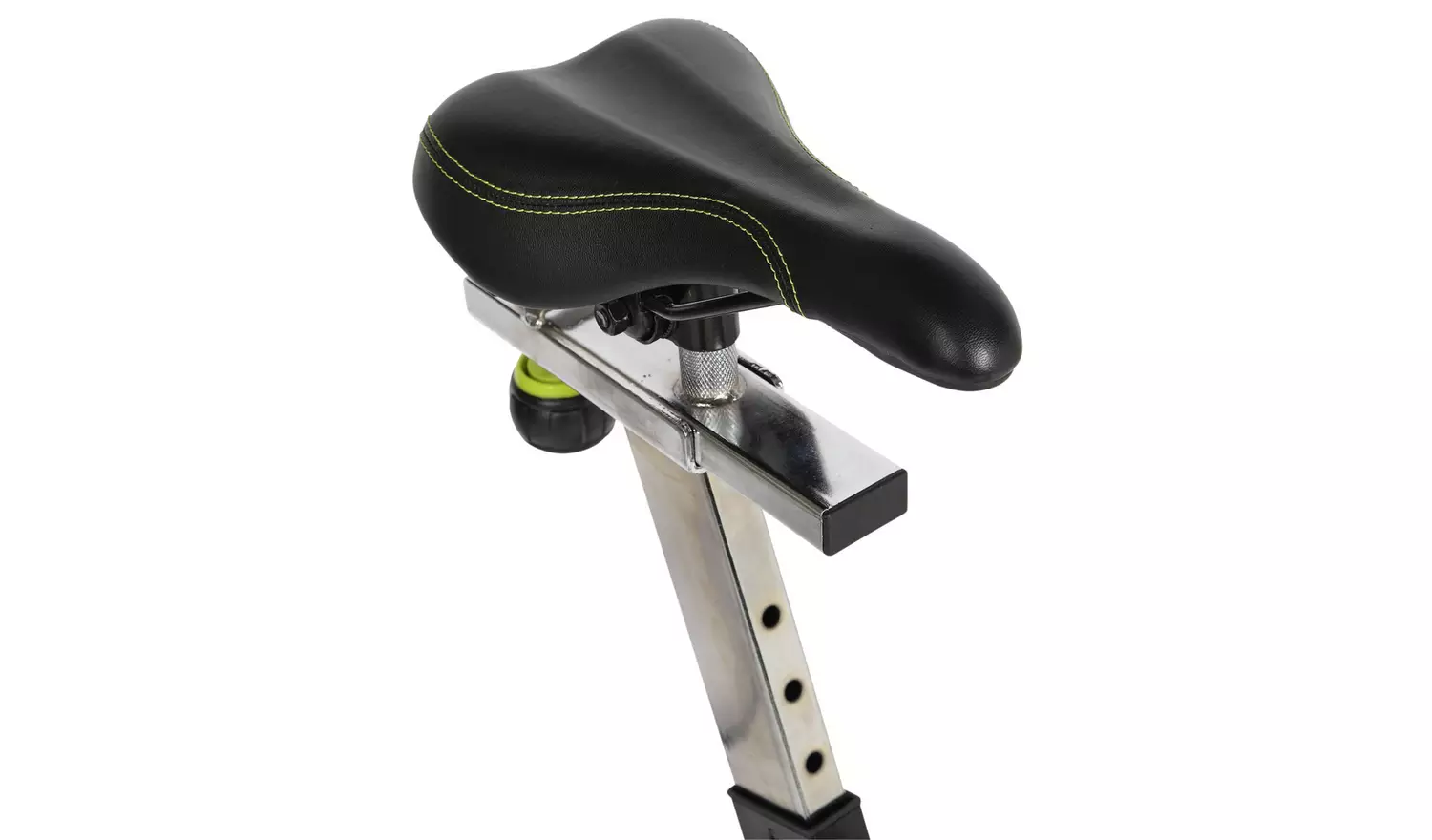 The Opti is not a one size fits all bike either. You can easily adjust the seat and handlebars to suit your height and comfort as you exercise. With your feet firmly strapped in to the pedals, you can confidently ride without fear of toppling over or your feet coming loose. When you're done, simply wheel the bike away and store. Simple.
Set up and assembly
Setting up the main bulk of the bike is the straightforward part, aslong as you stick to the instructions provided. It comes in thirteen pieces, but to make things easier, all the screws and tools you need are included. Then you get to the handlebars.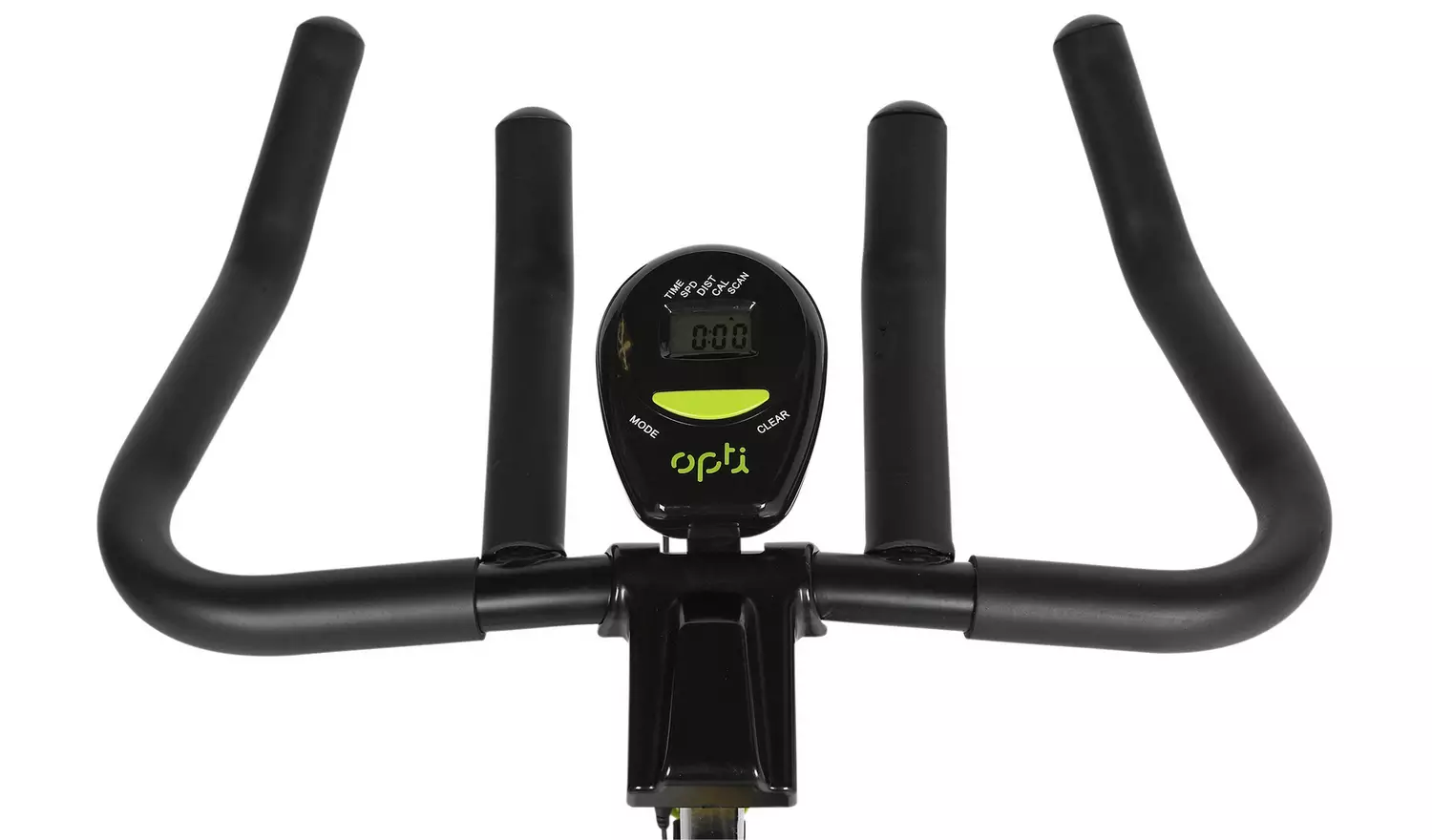 Alignment is an issue. Some of the holes that are supposed to be there are missing, while others simply won't align with the handlebars. While this won't be an problem for those handy with a drill, it will cost you a bit more time and effort to achieve.
Time is a massive factor in the Opti's set up. If you encounter the handlebar issue, it may take you up to 2 hours to put together. But once its all together, you can exercise anytime, any place from the comfort of your own home.
Basic features that shine
For a budget exercise bike, the Opti includes everything you could possibly want for the price. You can adjust the height of the seat, move it forward and backwards and adjust the curved handlebars to a suitable workout position.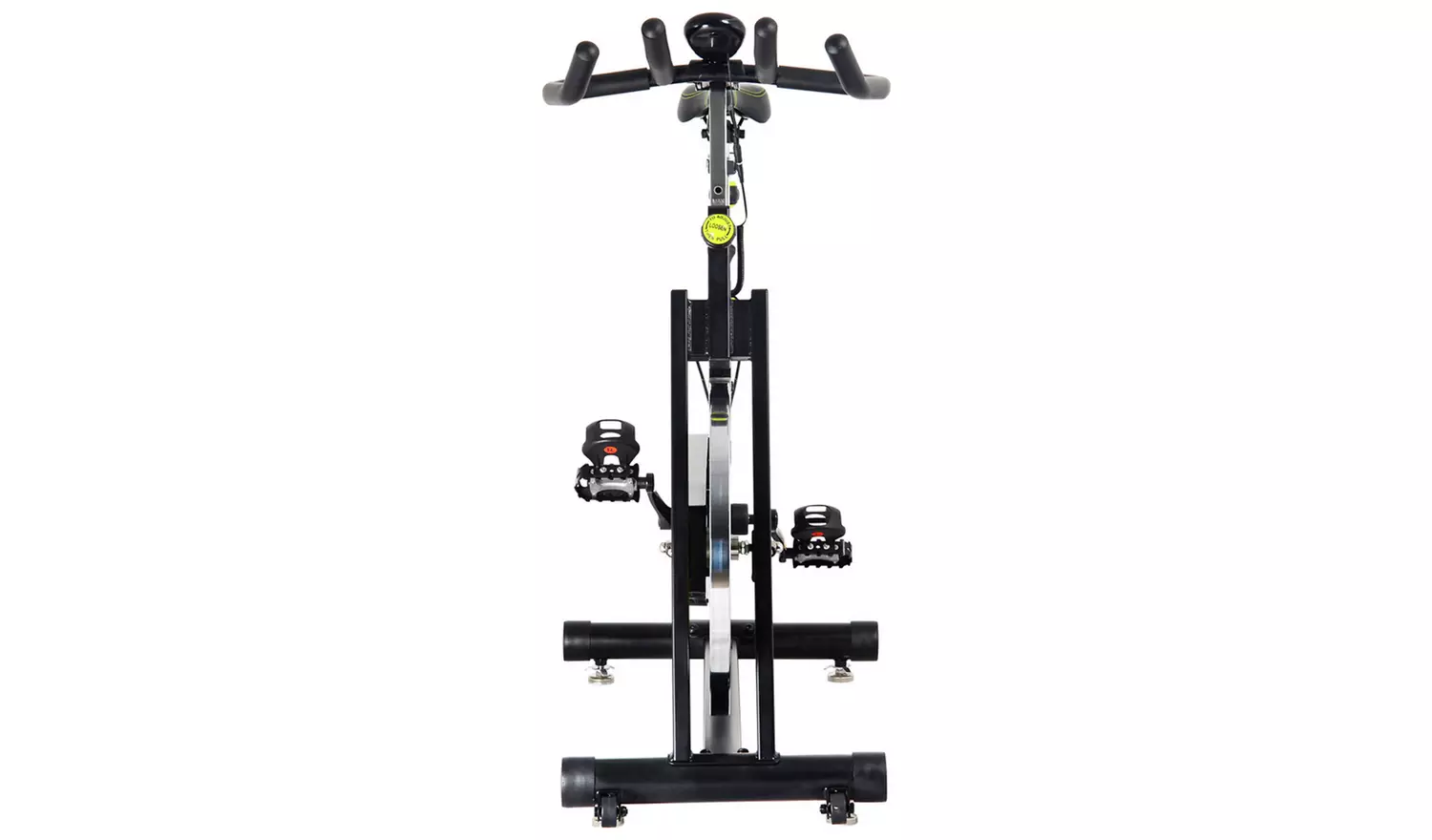 When you want to up the resistance levels, you manually turn the dial which is easily assemble on the central bar.
Looking at the console, you can see that it isn't much to look at. However, it gives you everything you need by a simple push of the "mode" button. There you can measure time, speed, distance and calories, or select the "scan" button to display each of the metrics in turn.
Performance
The Opti is a shining example of how well an entry level bike can do, and it does it remarkably well. Whether you want to follow an intense workout video or catch up on the latest bingeable series, you can push yourself to reach your fitness goals at your pace while keeping yourself entertained in the process.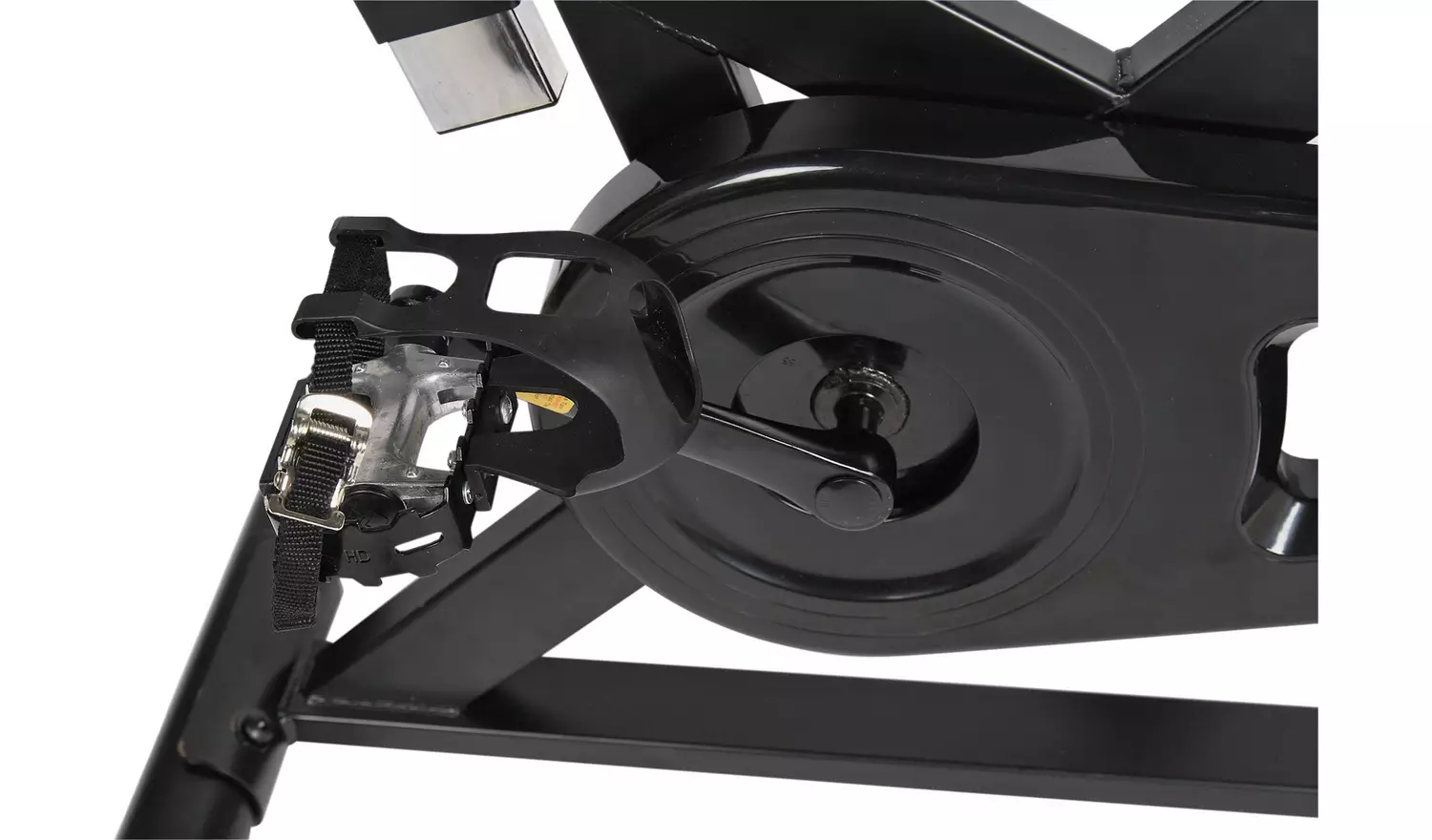 Motivation is key to a good workout, and Opti are well aware of this too. Despite it's basic programming, the central console gives you all the key information you need to track your progress. Balanced with the adjustable seat and handlebars, you can find the perfect workout position to give you all the confidence you need to reach the next stage of your fitness journey.
A surprising addition is the backrest, which makes usage even more comfortable. So once you've adjusted the seat to the optimum level, you can feel fully supported.
If you want to get the most out of your bike, its worth using a sports watch and an external heart monitor alongside to give you the fullest picture of your progress.
Final remarks
Overall, we like the Opti aerobic manual exercise bike. It sports an eye-catching design that wouldn't look out of place in your local gym and it offers pretty good performance for anyone wanting to improve their fitness levels.
Yes, it's not perfect and it does have its limitations. From the super basic console to the whir of the flywheel, but you'll struggle to find a better budget exercise bike.
Where the Opti excels, is its unashamed basicness. So if you want to improve your cardio, build up your endurance or simply get in some miles, the Opti will support you to get there.