Rowing is one of the most comprehensive low-impact, full-body workouts you can perform in the privacy of your own home. Outside of the gym, however, equipment is frequently poorly built and comprised of weak materials, making you immediately regret your purchase.
Fortunately, Neezee's latest product has ultra-quiet, seamless at-home exercises that will help you at any step of your fitness quest. No matter what degree of fitness you have, you will enjoy a dynamic and difficult exercise with its extensive magnetic tension system and pleasant ergonomic design.
In this comprehensive analysis, you will learn about the Neezee Rowing Machine's remarkable merits as well as some of its drawbacks. Continue reading to see why this innovative piece of equipment should be on your radar.
Is A Neezee Super Silent Rowing Machine More Than Just Quiet?
The term Neezee Super Silent Rowing Equipment implies a quiet and smooth machine for at-home training. With the aluminium rail and cushioned seat, it appears sturdy and high-end in the photographs.
Could this be a nice mid-level machine for individuals looking to challenge their limits?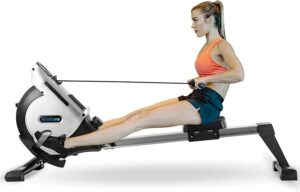 One of the most impressive aspects of the Neezee Rowing Machine is how quiet it is, even at full throttle!
This is high-quality equipment that you would expect to see at your local fitness suite, thanks to its revolutionary air-resistant flywheels and astonishing 16 degrees of magnetic resistance.
Furthermore, the ergonomically designed cushioned seat and non-slip adjustable footplates keep your feet securely in position, allowing you to feel completely stable regardless of the setting you select. You may enjoy your fitness trip at your own speed thanks to its easily adjustable resistance.
Taller users may like this machine's 161.5-inch length, although even that has limitations. If you were intending on folding your rower after usage, this rower is not foldable owing to its sturdiness! However, you may still store it by turning it on its side.
1. Neezee Super Silent Rowing Machine: A Machine That Grows With You
The Neezee Rowing Machine is a very competent piece of equipment that evolves with you throughout your fitness journey, with an astonishing 16 levels of magnetic resistance. Furthermore, the resistance levels are quick and easy to alter, allowing you to increase the octane with a simple turn of the dial.
Most users will benefit from the vast range of resistance provided as well as the progress they will achieve as a result of the machine's quality. As you advance through the levels, you'll see that your form and endurance improve each time, with the top settings being the most difficult. While there is definitely space for development, the Neezee is a formidable machine.
The Neezee is designed to last. With its robust aluminium frame and near-silent, wide-range row owing to its unique flywheel system, you can develop muscle, burn fat, and significantly improve your endurance all with one small machine.
2. Ergonomic Design Of Neezee Super Silent Rowing Machine
While comfort may not be the first thing that comes to mind when upgrading your at-home gym, it is definitely at the top of our list of considerations! The Neezee makes no concessions to comfort, and neither should you.
The design itself supports an optimal rowing position so that you can make it through even the most strenuous and longest sessions, with a smooth-gliding ergonomic seat that glides forth and back. However, the designers at Neezee did not stop there.
From the aluminium side rail that supports you while you row and ensures a smooth and stable stroke every time to the non-slip handlebars for optimal comfort, you'll be encouraged to go back on your machine every day just for comfort levels.
The anti-skid foot pedals serve to give extra balance and hold your feet securely in place with the adjustable foot straps, all of which enhance your comfort levels as you work out.
3. Console Design And Adjustments Of Neezee Super Silent Rowing Machine
Perhaps the most serious issue we have with the Neezee is its underwhelming console. Despite its best efforts to provide useful info to assist you to develop, the screen is absurdly tiny. Because of this lack of foresight, you can only watch one data stream at a time while rowing.
Most users won't be bothered by the lack of legibility; nonetheless, having your distance and stroke rate right in front of you during your workout surely helps with inspiration. Without it, the Neezee interface makes it extremely difficult to keep track of your progress in real-time.
Fortunately, the creative brains at Neezee have taken the probable need for additional media on board by including a convenient cellphone and tablet stand.
4. Stroke Length Of Neezee Super Silent Rowing Machine
Despite the Neezee's amazing 161.5-inch length, the stroke length is compromised when the handle is fully extended because the footrests are just too near. Whereas shorter users would struggle, taller users will benefit from a greater range of motion than other rowers on the market because of the long rail.
While this may be a deal breaker for some users, the range of mobility paired with the high quality of construction will be enough to win over the majority of customers.
5. Affordable And Easy Set Up Of Neezee Super Silent Rowing Machine
The Neezee Rowing Machine is really simple to assemble. You'll be hard-pressed not to be sitting on the rower's seat within twenty minutes after taking it out of its box.
Within minutes, it's clear why this gadget has become such a must-have piece of equipment. It's strong, long-lasting, and fairly priced, plus it saves room in your home gym. Despite not being foldable, it is lightweight and portable. So, whether you want to row in front of the TV or in a quiet corner of your garage, your Neezee Rowing Machine will have no trouble finding a home.
6. Quiet Workouts Of Neezee Super Silent Rowing Machine
The noise levels are one of the most important dealbreakers with any at-home gym set. Anything that causes disruption in your home, awakens the children or disrupts the evening news is frequently not worth the cost. Fortunately, the designers at Neezee considered all of this and more before releasing their current model.
The air-resistant flywheel is responsible for the Neezee's efficient and whisper-quiet functioning. You may take on the greatest resistance levels or take a leisurely approach while producing no more than a soft thrum, all without emitting the unpleasant high-frequency whirs most of us have come to anticipate!
7. Low Impact Workout Of Neezee Super Silent Rowing Machine
Finding a machine that not only gives fantastic support and comfort while exercising but also gets your entire body moving is all part of the Neezee appeal.
Rowing is a low-impact workout that efficiently strengthens and tones muscles while decreasing joint stress. However, the Neezee Rowing Machine provides all of this and more. You'll be fighting fit in no time with a wide range of magnetic resistance levels to select
Neezee Super Silent Rowing Machine – Pros And Cons
Pros
Silent workouts from the comfort of your own home
16 magnetic resistance levels
Offers a dynamic and challenging workout
Solid and supportive ergonomic design
Track all your progress via a clever LCD monitor
Easy to move
Cons
The console design could be improved
This machine doesn't fold
Limited stroke length
Our Verdict on Neezee Super Silent Rowing Machine
The Neezee Rowing Machine is a fantastic piece of athletic equipment that will be appreciated by anybody looking to expand their at-home gym. Neezee provides a low-impact, full-body exercise with less noise and maximum fitness results.
The Neezee excels in its easy and rapid installation, strong and durable ergonomic design, and very silent operation even during the most intense exercises.
You can be up and rowing in 20 minutes from the box. The problem is that once you start, you won't want to stop! Then there's the remarkable range of magnetic resistance, which will put even the most seasoned rowers to the test. The Neezee Rowing Machine can optimize any workout, whether you wish to walk at your own pace or take on the most difficult levels.
The console, on the other hand, is the machine's main flaw. Although it generates useful stats such as calories burned, time, distance, and so on, the tiny monitor display only allows you to monitor one feature at a time. Despite the rest of the machine's great design elements, it appears cumbersome.
Then there's the uncomfortable positioning of the footrests. The Neezee is now a well-proportioned machine that can accommodate taller users. Shorter users, on the other hand, will struggle since they won't be able to fully extend the handle. This shortsighted design error derives from the expected range of motion for a machine with such a lengthy bar.
However, if the combination of a low price with a robust, sturdy, and incredibly comfortable ergonomic design is worth bragging about, then the Neezee's current edition is a success. What exactly are you waiting for? Could the Neezee Rowing Machine be your next buy for your home gym?