Here's our complete review of the Neezee Rowing Machine. 
Rowing is one of the most complete low impact, full-body workouts that you can do straight from the comfort of your own home. But often, equipment outside of the gym can be poorly designed and made from flimsy parts that will make you instantly regret your decision to buy. 
Fortunately, Neezee's latest offering boasts super silent, smooth at-home workouts that will support you through each stage of your fitness journey. With a comprehensive magnetic tension system, combined with its comfortable ergonomic design, you will experience a dynamic and challenging workout, no matter what level of fitness you are at. 
In this well-rounded review, you will discover the Neezee Rowing Machine's groundbreaking strengths and find out about some of its flaws. Read on to find out why this clever piece of kit should be on your radar:
Pros:
Silent workouts from the comfort of your own home
16 magnetic resistance levels
Offers a dynamic and challenging workout
Solid and supportive ergonomic design
Track all your progress via clever LCD monitor
Easy to move
Cons:
Console design could be improved
This machine doesn't fold
Limited stroke length
CHECK PRICE
First Impressions Of Neezee Rowing Machine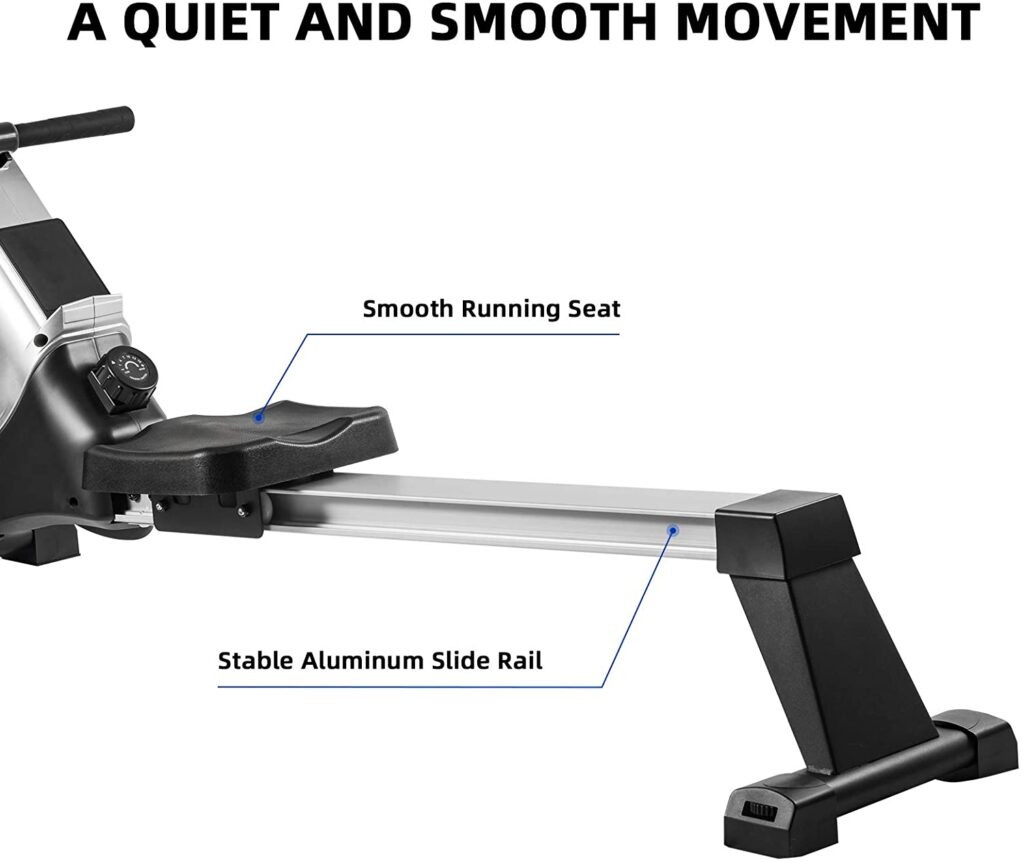 One of the most remarkable features of the Neezee Rowing Machine is how super quiet it is, even when you are going full pelt! Supported by its innovative air-resistant flywheels and its impressive 16 levels of magnetic resistance, this is a high-quality machine that you would expect to find in your local fitness suite.
What's more, the ergonomically designed padded seat and non-slip adjustable footplates ensure your feet stay firmly in place so that you can feel entirely stable no matter what setting you choose. With its easy to adjust resistance, you can enjoy your fitness journey at your own pace. 
Taller users will be delighted with this machine's 161.5-inch length, but even that has its limits. If you were planning on folding your machine away after use, this rower isn't foldable by any means due to its sturdiness! But, you can still turn it on its end for easy storage. 
A Machine That Grows With You
Designed with an impressive 16 levels of magnetic resistance, the Neezee Rowing Machine is a highly capable piece of equipment that grows with you throughout your fitness journey. What's more, the resistance levels are quick and simple to adjust, meaning you can turn up the octane with a flick of the dial. 
Most users will thrive from the wide range of resistance available and the progress that they will make due to the quality of the machine. Working up through the levels, the highest settings are challenging, and you'll quickly notice your progress with your form and endurance improving over time. While there is still room for improvement, the Neezee is an impressive piece of machinery. 
The Neezee is built to last. With its sturdy aluminium frame and near-silent, wide range row due to its innovative flywheel setup, you can build muscle, burn fat and radically improve your endurance all with one compact machine. 
CHECK PRICE
Ergonomic Design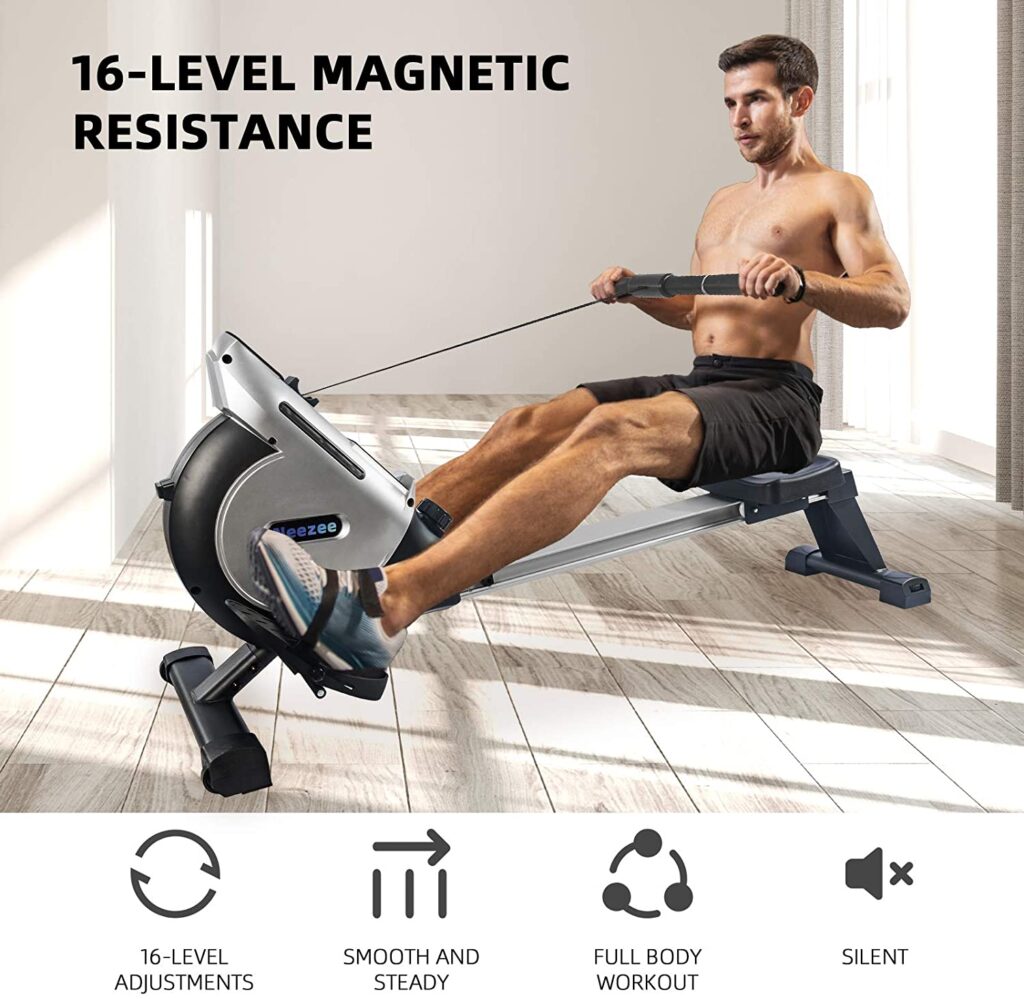 While comfort might not be the first thing you think about when switching up your at-home gym, it's definitely at the top of our list of priorities! The Neezee makes no compromises on comfort either, and neither should you. 
Featuring a smooth-gliding ergonomic seat as you glide forward and back, the design itself encourages an ideal rowing position so that you can make it through even the most demanding and longest workouts. But the designers at Neezee haven't stopped there. 
From the aluminium side rail to support you as you row and ensure a smooth and stable stroke each time to the non-slip handlebars for maximum comfort, you'll feel extra motivated to hop back on your machine each day for its comfort levels alone. 
Your feet are also made secure by the anti-skid foot pedals, which work to provide extra balance and keep your feet firmly in place with the adjustable foot straps – all adding to your comfort levels as you workout. 
Console Design And Adjustments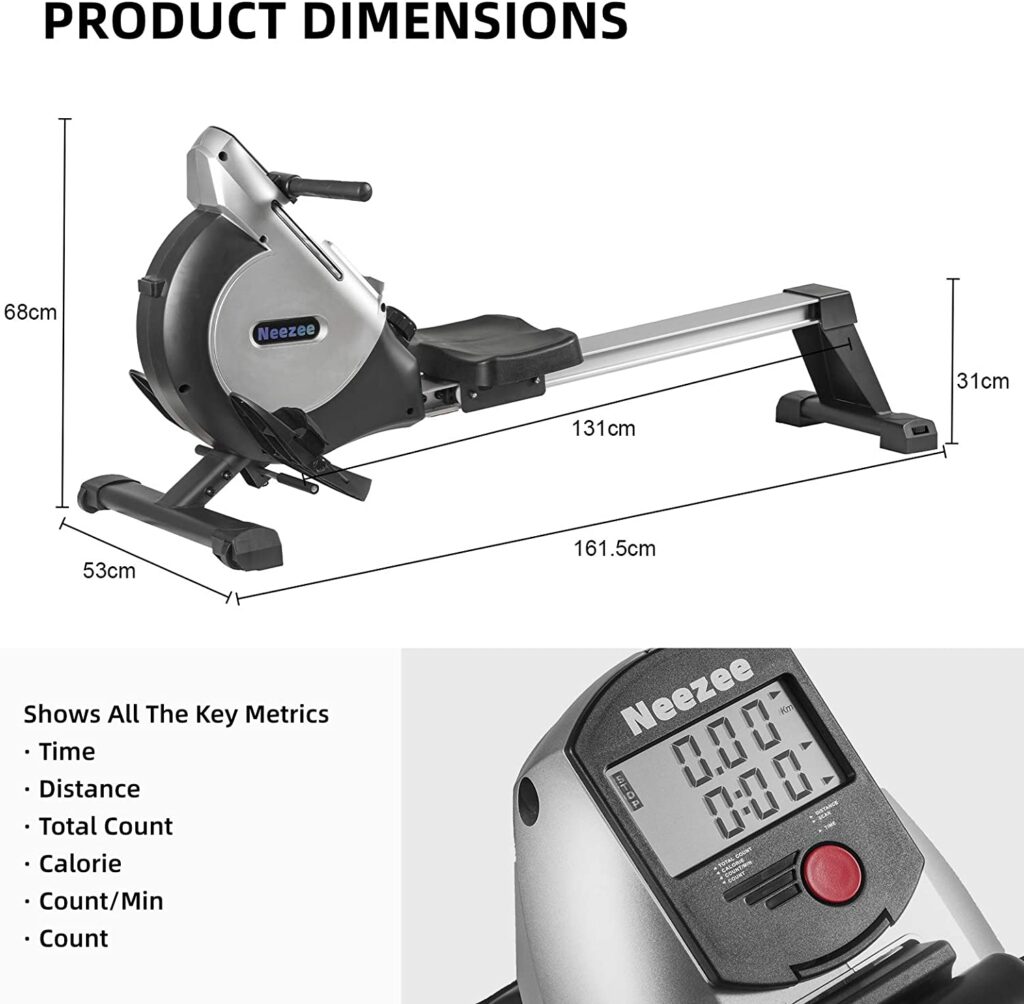 Perhaps the biggest issue we have with the Neezee is its slightly lacking console. Despite its best efforts to offer helpful data for you to build on your progress, the screen is ridiculously small. This lack of foresight means you can only monitor one data stream at a time as you row. 
Now, most users won't have an issue with the lack of readability; however, having your distance and stroke rate right in front of you throughout your workout definitely packs a punch in the motivation stakes. Without that, the Neezee console has made it incredibly awkward if you want to keep tabs on your progress in real-time.
Fortunately, the creative minds at Neezee have taken into account the potential need for extra media on board with a handy mobile and tablet stand. 
Stroke Length
Despite the Neezee's impressive 161.5-inch length, there is an issue with the stroke length when you pull the handle to its full extension as the footrests are simply too close. Where shorter users will struggle, taller users will get a better range of motion compared to other rowers on the market due to the long rail. 
While this may be a dealbreaker for some users, the range of motion combined with the quality build will be enough to win most users over. 
Affordable And Easy Set Up
The Neezee Rowing Machine is incredibly easy to set up. You'll be hardpressed not to be sat in the rower's seat within twenty minutes of getting it out of its box – all on your own. 
Within minutes it's easy to see why this machine has become such a must-have piece of kit. It's sturdy, durable, reasonably priced, and it's a space saver for your at-home gym. Despite not being foldable, it is easy to move around. So whether you want to row in front of your TV or find a quiet corner in your garage, you won't struggle to find a home for your Neezee Rowing Machine. 
Quiet Workouts
One of the most significant dealbreakers with any at-home gym kit is the noise levels. Anything that disturbs your household, wakes the kids or interrupts the evening news is often not worth the price tag. Fortunately, the creators at Neezee thought all of this and more through before launching their latest model. 
For the Neezee's effective and super-quiet operation, it all comes down to the air-resistant flywheel. Producing barely more than a gentle thrum, you can take on the highest resistance levels or take a leisurely approach, all without making the irritating high-frequency whirs most of us have come to expect! 
Low Impact Workout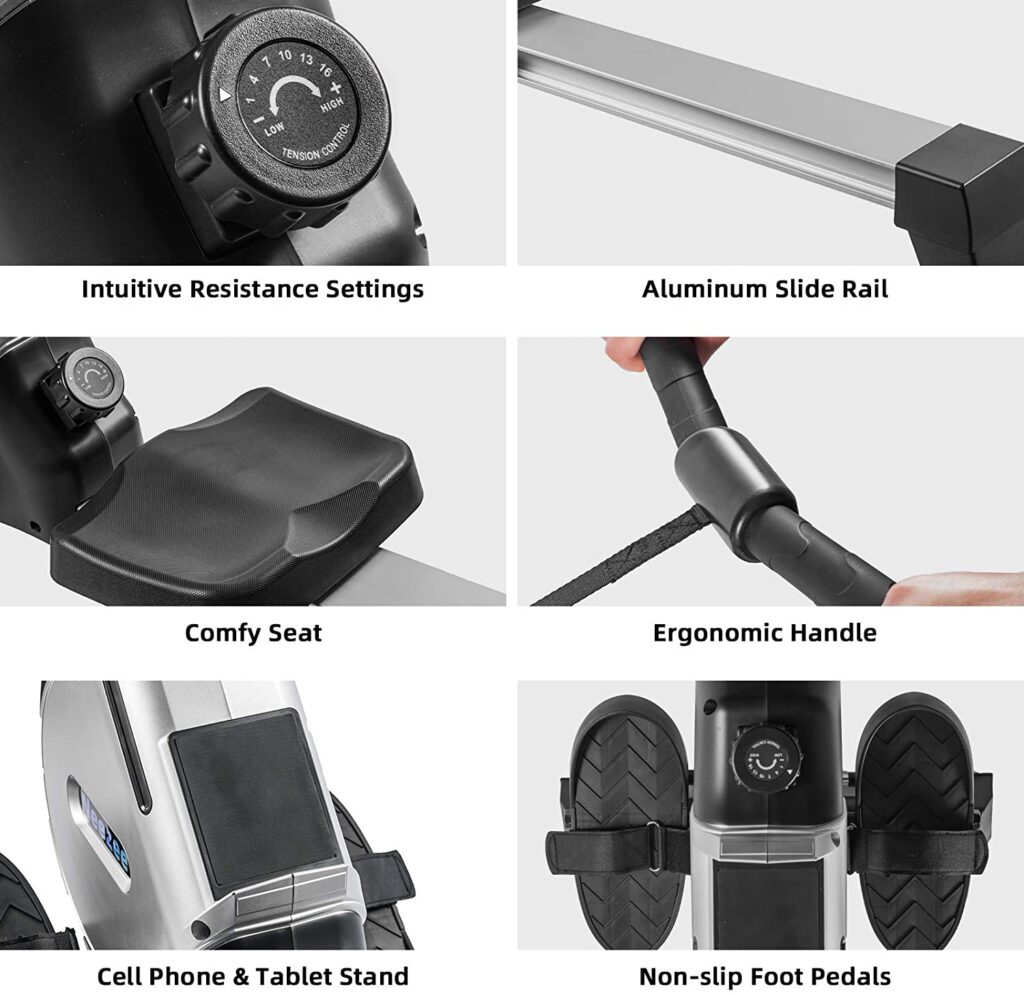 Finding a machine that not only provides a good level of support and comfort as you exercise but gets your whole body working is all part of the Neezee charm. 
Rowing offers a low impact workout that effectively builds and tones muscles while reducing pressure on your joints. But with the Neezee Rowing Machine, you get all that and more. With the broad range of magnetic resistance levels to choose from combined with built-in sensors to measure all of your key metrics, you will be fighting fit in no time. 
Our Verdict 
The Neezee Rowing Machine is a fine piece of sporting equipment that is a welcome addition to anyone growing their at-home gym. With Neezee, you get a low impact, full-body workout with little noise but maximum fitness gains. 
Where the Neezee triumphs are its easy and quick assembly, sturdy and durable ergonomic design, as well as it's super quiet use even when you are taking on the most high-octane workouts. 
From box to workout, you can be up and rowing within 20 minutes. The catch, you won't want to stop once you get started! Then there is the impressive range of magnetic resistance that will test even the well-seasoned rowers. Whether you want to amble along at your own pace or take on the most challenging levels, the Neezee Rowing Machine can optimise any workout.
CHECK PRICE
On the flip side, the console is the biggest letdown with this machine. Although it produces sound metrics including all the usual calories burnt, time, distance et al., the small monitor display only allows you to keep tabs on one feature at a time. It presents as clunky, despite the rest of the machine's impeccable design features. 
Then we have the awkward placement of the footrests. Now, the Neezee is a well-proportioned machine that caters well for taller users. However, shorter users will struggle as they won't be able to pull the handle to its full extension. This shortsighted design flaw stems from the range of motion you'd expect from a machine with such a long bar. 
But, if price alone matched with durable, sturdy, and supremely comfortable ergonomic design is worth shouting about, then the Neezee's latest model is a success. What are you waiting for? Could the Neezee Rowing Machine be your next at-home gym purchase?