The JLL IC300 PRO Indoor Cycling Exercise Bike is fantastic, especially for the price. This will look great anyplace in your home and is designed to look like a spin bike from the cardio room floor at your local club. If you want to do a spinning exercise in your own house at a fair price, this device could be precisely what you're searching for.
The JLL IC300 provides a smooth ride thanks to its 20kg flywheel and adjustable magnetic resistance. The IC300 measures time, speed, distance, calories burned, as well as pulse and goal heart rate, and displays it all on a large LED monitor. This indoor bike also has rollers to assist you to move it around the house and an emergency stop mechanism for enhanced safety.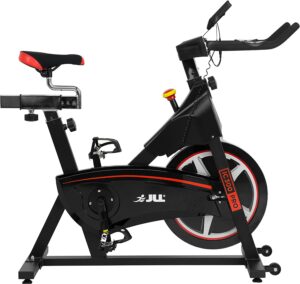 This bike is a fantastic piece of machinery.
It boasts a strong 20kg flywheel for a demanding exercise, and with the magnetic resistance and 7-function monitor, you will be able to truly push your home training objectives.
It has a sleek style and will look great in any home if you have a room.
With dimensions of 131 x 51 x 112cm, you'll need to find a permanent home for this bike, but unlike some other JLL models, the belt drive technology and magnetic resistance mean your workout should be pretty quiet.
What Are The Key Features Of JLL IC300 Pro Indoor Cycling Exercise Bike?
1. Setup Of JLL IC300 Pro Indoor Cycling Exercise Bike
It didn't take long to set up this bike, thanks to the user instructions and the odd check on a YouTube video.
Because the package is obviously fairly heavy and big, it is advised that you wait until everything is in the room where you intend to keep the bike before beginning assembly.
Also, if you're lugging something up the stairs, ask for assistance. It has wheels, which is useful if you need to relocate it once it is set up.
2. Riding Experience Of JLL IC300 Pro Indoor Cycling Exercise Bike
As previously said, this JLL indoor exercise cycle includes a magnetic resistance system, which essentially means that a magnetic is installed near the flywheel and there is a knob that you can change depending on the sort of intensity you require.
The closer the magnet is to the flywheel, the stronger the resistance—a terrific feature to employ if you want to change up your training!
This bike also uses a belt rather than a chain to deliver power from the pedals to the flywheel.
This implies there are a few advantages, such as a smoother ride and a lower likelihood of difficulties (like a chain can break or need oil etc). Many people report that it creates a lot of noise, which may be an issue for you.
If you're looking for a chain-driven bike that will offer you a more exact imitation of riding an outside cycle, choose the JLL IC300 Indoor Exercise Bike.
3. Display Of JLL IC300 Pro Indoor Cycling Exercise Bike
The JLL IC300 PRO includes a good-sized LCD display; it's not up to gym standards, but it will undoubtedly suffice to precisely assess your home training objectives.
Or, as most people now do, you may utilize a combination of the two, tracking certain things on the bike and other crucial indicators with your Smart Watch.
On the LCD, you can see the time, speed, distance, calories, RPM, and so on, and there are also sensors on the handlebars to check your pulse.
The display has four buttons that provide a wealth of information:
RESET – To start over and reset all existing readings to "0."
SET – To establish your personal programs and goals.
RECOVERY – At the end of the session, a one-minute countdown will monitor your heart rate and tell you your fitness rating.
MODE – It is used to toggle between metrics.
Don't worry, the gadget comes with batteries.
4. Comfort Of JLL IC300 Pro Indoor Cycling Exercise Bike
This bike was designed specifically for you. The manufacturer recommends a maximum user weight of a little over 20 stone (130kgs) for the JLL IC300 PRO, thus it is ideal for a wide variety of weights.
The handlebars feature six adjustment levels, and the seat may be moved in any direction you desire thanks to the six horizontal and ten vertical level possibilities. This bike is truly designed to accommodate people of all shapes and sizes, ensuring that you receive the training you require.
Although the saddle is coated in soft fabric and cushioned foam, several customers have stated that they purchased a gel overlay to make it even more comfortable.
That's something to think about if you want to spend a lot of time training those legs!
5. Performance & Adjustability Of JLL IC300 Pro Indoor Cycling Exercise Bike
Long-term exercise objectives are usually more attainable while using comfortable equipment. Fortunately, JLL is well aware of this and has built a trim seat with a centre cut-out to reduce chaffing and ensure ventilation. It's also softly cushioned!
In addition to basic comfort, this bike has one of the greatest adjustable features to accommodate riders of various shapes and sizes. You effectively get a custom riding posture for shorter and taller people, with 6 degrees of horizontal adjustment and 10 levels of vertical adjustment to pick from. Then there's the customised handlebar height, which has six vertical levels to accommodate each individual's desire.
6. Don't Forget The 3 Crank Pedals Of JLL IC300 Pro Indoor Cycling Exercise Bike
Investing in dependable equipment improves your riding experience. The IC300 PRO pedals contain adjustable straps and buckles to guarantee your feet are firmly in position before you begin your workout. When combined with intelligent 3-crank pedal technology, you are assured of a firm and stable ride regardless of how fast you wish to ride.
Even during strenuous workouts, the extra built-in toe cages ensure no slippage. Just keep an eye out for the pointed tips, which might be unpleasant on extended standing journeys!
What Are The Pros And Cons Of JLL IC300 PRO Indoor Cycling Exercise Bike
Pros
Flywheel weighing 20 kg
7 show feedback metrics
Plates with pulse sensors
Cycling saddle made of fabric for comfort
On the bike, an aluminium bottle is fastened in a bracket
Wheels make transportation simple
The maximum user weight is 130kg.
Because of the magnetic resistance and the belt-driven flywheel, there is very little noise.
12 months warranty for home usage.
Cons
Non-foldable
At 45kg, it's a rather hefty
According to several users, the pulse monitor is not always accurate
Final thoughts on the JLL IC300 PRO Indoor Cycling Exercise Bike
This is an excellent indoor training bike. It has a very robust and durable base that is firm to the floor and will not move even when you are doing a really difficult spin! Because of the massive flywheel and resistance levels, this bike may be a challenging exercise for even the most experienced home biker. You can also track your progress with the LCD display device, which provides all of the information you could possibly need.
To be honest, if we had a spare couple of grand, we might opt for a specialist spin bike that we like to use in the gym, but as far as home fitness machines go, you get quality features and a solid piece of equipment that will give you an intense workout at whatever level of cardio you want for the price.
And, most of all, it looks great, which, given that you can't fold it away out of sight, is another reason we love this bike!