Looking for a home spin bike? This information has been put together to assist you in finding a spin cycle that will not be a waste of money. Spinning is an efficient and enjoyable way to get in shape, and while a home spin bike can't completely replicate the atmosphere of a studio class full of fellow riders, it's still a great way to exercise at home – and it can save you money over time if you avoid regularly paying for expensive classes in boutique gyms.
If you've ever sweated it out and put your endurance to the test in a spin class, you're aware of the numerous advantages of this low-impact cardiovascular workout. It's easy to see how spinning has become an immediate favourite, from improving your mood to getting your pulse pounding.
What Are The Key Features Of Indoor Spin Bikes?
Indoor cycles are commonly used for HIIT workouts, so make sure they are strong enough for you to go all-out on, with a high maximum user weight and robust construction. You must also have enough resistance to push yourself during brief sprints. The weight of the flywheel is vital in all of this, and a heavier flywheel produces a smoother ride when functioning at high speeds.
If you want some direction for your home spinning, search for smart bikes that can connect to partner applications that offer guided courses. Several firms, such as Peloton and Echelon, have their own applications, but others, including as iFit and Kinomap, will use third-party apps for lessons and other in-ride entertainment. Some bikes feature built-in screens that display exercise information, while others include a tablet holder.
Advantages and Disadvantages Of Indoor Spin Bikes
Spinning is the most popular fitness class at any commercial gym, so you might be forgiven for believing it has hundreds of benefits and no drawbacks. There is a delicate balance to be struck, so let's begin with the nice stuff. Participating in frequent spin cycle workouts is an excellent approach to maintaining your heart and circulatory system in good shape.
Cycling and spinning are low-impact ways to enhance your weekly cardio workouts, and spin bikes, in particular, are quite inexpensive when compared to treadmills and rowing machines. Indoor Spin bikes are deemed injury-free since there is little risk of injury and because they do not involve any outside or road riding, which can be riskier than stationary cycling in your garage.
They may also be used regardless of the weather, which is ideal for anyone riding a spin cycle in the UK. If you want to enhance your stamina or just utilize a spin cycle for a HIIT workout, this is the right piece of fitness equipment for you. The most serious difficulties with indoor spin bikes are around misuse.
The cycles will be OK if used every day, but the human body needs rest, so unlike brisk walking, which is a terrific type of cardio, hard-core spinning should not be done every day of the week. Instead, strive for a weekly program of 3-4 spin sessions per week at most, supplemented by a milder type of cardio such as walking.
Indoor Spin Bikes Vs Exercise Bikes
It is a popular misperception that spin cycles and exercise bikes are the same things. This is just not the case, and while there are numerous parallels between the two, there are also some significant distinctions. Spin bikes require more effort and force from the user than exercise bikes, and they don't have the same level of versatility as exercise bikes (which often come loaded with extra gadgets and the ability to change various settings), but they can help you burn more calories if you push yourself hard enough.
Spin bikes typically have a sturdier base and a more robust frame, and they are not foldable. Exercise bikes are often collapsible, but lack the stability of spin bikes. Because of their design, spin cycles maintain your body in a more natural posture, and they include a variety of drop handlebars that are more comfortable to use and grip when pushing hard.
When opposed to normal exercise bikes, these spin handlebars are meant to push upwards and away from the main frame of the cycle. Both will tone your legs, especially your calf muscles, and provide one of the most low-impact aerobic exercises accessible. When comparing a spin session to a 30-minute treadmill run, you will not only cause less impact on your joints, but you will also burn more calories.
Our Handpicked Collection Of Indoor Spin Bikes For Health And Fitness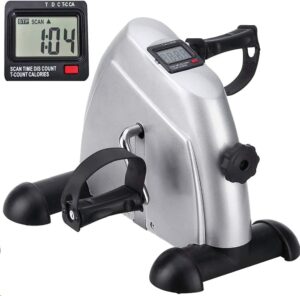 Currently tipping the scales in the popular selling lists, the Himaly is easy to use, portable and incredibly user-friendly. These features make it the perfect indoor exercise bike among all spin bikes. Great for individuals who have limited mobility or simply need to strengthen their core and leg muscles from the comfort of a chair.
Capable of combining arm and leg exercises by simply adjusting the multi-level resistance bar, the Himaly encourages the user to target specific muscle groups. You will quickly notice an increase in blood circulation, strengthened lung capacity and an increase in your fitness levels.
Easily keep an eye on your progress with the accessible multi-function LCD display as your exercise journey unfolds. What's more, you can train anytime, anyplace with this clever piece of kit.
---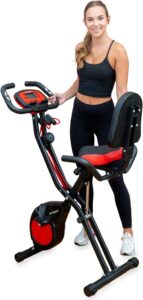 Perfect for the aspiring amateur, there's a reason why YYFITT's latest offering packs a punch.
Not only can you adjust between upright or semi-recumbent style depending on your capabilities, but you can push yourself to the max with its 16 levels of resistance.
Offering smooth and quiet cycling, the YYFITT is well-made and thoughtfully designed.
With the included arm resistance bands, user-friendly monitor and phone/tablet holder, there's a lot to like. You'd be hard-pressed to find an equation that comes with the same reasonable price tag!
---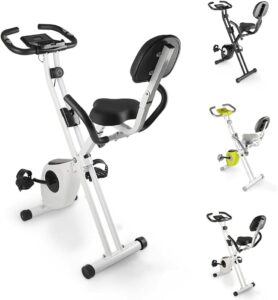 Looking for a bike that is sturdy, comfortable and incredibly user-friendly? Then take a look at the Bigzzia. Due to its handy 2-in-1 upright and recumbent style, you can either have a powerful, sweat-burning session or a slow-paced workout from the comfort of your home.
You can easily adjust your seat and pedals for optimal positioning and customise your bike routine with eight different levels of intensity. Everyone, young or old, can get involved!
Easy to store and offering quiet performance, the Biggzia is a welcome addition to any home workout space.
---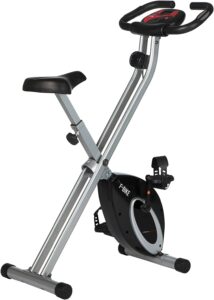 A champion of perfect bikes, Ultrasport is charging into 2021 with its recently upgraded model. Bursting with all the desirable features you could hope for, such as eight resistance levels and a user-friendly LCD display monitor to track your progress.
What's more, you can optimise your stamina training by customising your resistance levels. You will quickly notice a positive increase in your endurance, muscle strength and improved circulation.
With its innovative, thoughtful design, the Ultrasport is easy to store and takes up minimal space during your exercise.
---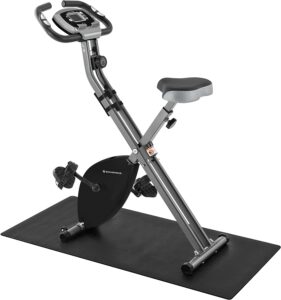 See your exercise journey unfold before your eyes on Songmic's large display screen.
You can watch your speed, calories, pulse, and distance and quickly improve on previous timings all while you watch movies, TV or listen to music. Multitasking has never looked so good.
Designed to increase your power without increasing the noise, the Songmics bike allows you to exercise to the max without disturbing your family.
Throw in the eight magnetic resistance levels to test your endurance and build up your stamina, and you'll notice a difference in no time.
---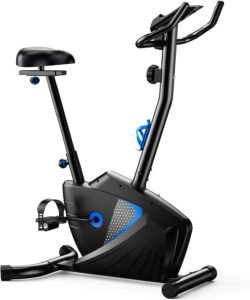 Just by looking at the Winnow, you can see that sleek, svelt and easy on the eye were all part of the design specification. But this bike is more than it first appears.
With its carefully engineered internal magnetically controlled flywheel, which produces no more than 20 decibels of sound right down to the magnetic control body-building that this bike achieves for its users – this is not a bike to be missed!
What's more, the eight resistance levels work to stimulate the riding environment of a flat road, as well as high mountainous slopes. Whatever your sports stage, level of exercise or physique, the Winnow puts you through your paces.
If your goal is to exercise your muscles, build up strength in your lungs and heart or burn fat to lose weight, Winnow's incredible versatility, and ease of use will help you reach your goals.
---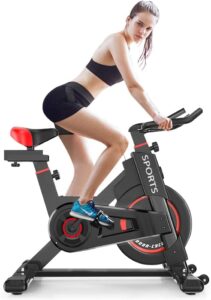 The incredibly versatile and adjustable Delfy is a bit of a dark horse. At first glance, the bike appears heavy but don't let that put you off! Designed to bear up to 330 lbs, the solid construction makes your spin session super safe, no matter what your physique or ability.
Switch up the resistance and adjust the tension levels to your preference, and take the ergonomically designed wheels for a spin from the safety of your living room! As you work out, track your progress with the real-time feedback feature found on the incredibly user-friendly LCD monitor.
What's more, you can be as secretive as you like! Your household will sleep soundly as you work out due to the nearly silent and smooth riding experience.
---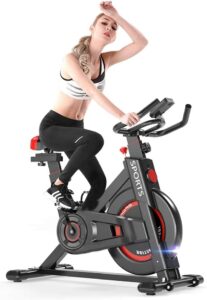 The iPro is an amazing seller for a reason. With its solid construction paired with one of the most silent rides possible, exercising at home has never looked more appealing. Like others on this list, you can simply switch up the difficulty level by adjusting the resistance knob to whichever setting suits your abilities.
Add the LCD capabilities into the mix, and you've got yourself a perfect piece of kit. Easy to set up, and move around and super sturdy for the more challenging exercises, the iPro delivers on all fronts.
If you don't mind splashing out, the iPro is a welcome addition to any aspiring cyclist, whether you're just starting out or want to aim for the pro level.
---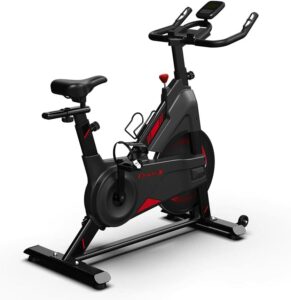 What better way to bring the big guns to the floor than to upgrade an already remarkable piece of kit! Dripex's latest offering is built with a higher safety level and can bear up to 300 lbs. Matched with an almost silent and incredibly smooth ride, you can push your body to its limits comfortably from your own home. Win, win.
You can easily move the Dripex around due to the well-placed transportation wheels and reduce exercise fatigue by simply adjusting your seat – 11 different heights available – and moving the handlebars to fit your individual physical demands.
Sip away at your drink as you exercise and simply place it back into the conveniently placed bottle holder while watching the next big show on your favourite streaming service from your phone!
---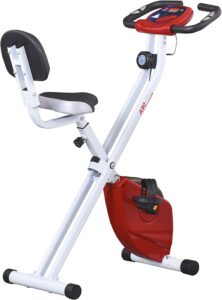 Simply designed, and thoughtfully made, the HOMCOM is worth a look for those that don't want to splurge but want to get their money's worth.
Challenge your abilities with the eight different magnetic tensions to choose from, and set the level that works for you. As your heart rate increases, the hidden handlebar detection strips communicate to the LCD monitor. That way, you can keep track of your progress, the time elapsed, and the calories burnt, and improve your rankings.
HOMCOM's X shape design gives you extra support when you are exercising for peace of mind, and when you are done, simply fold it up and put it away. It's so compact yet solid and durable!
Easy to set up and incredibly user-friendly, you can reach your health goals with the HOMCOM.
---
What Should I Look For In Indoor Spin Bikes?
There are so many indoor spin bike results on Google right now that it's understandable if you're feeling a bit overwhelmed. Of course, what you need in a spinning cycle depends on how skilled you are as a cyclist, as well as how frequently you will use your new bike – but there are a few crucial things to look for.
First and foremost, the fundamentals, The essentials. The unchangeables. A brake, flywheel (the front wheel), legs and frame, transport wheels (to move the cycle about your house), a driving system (to pedal), an adjustable seat, and adjustable handlebars should all be included in your spin bike.
Check the height of your bike before buying and make sure the seat adjusts to your hip height. This is suggested for all bikers, whether novice or expert.
Learn a little about resistance – that's the force you push against when riding. Purchase a bike with variable levels of resistance that may be adjusted with a manual screw or magnetic resistance. This will guarantee that your bike has adequate power for a strenuous workout.
Make sure your flywheel weighs 15kg or more; anything less, and your spin cycle may not be as durable as it claims in the description. You can obtain much cheaper exercise bikes without a front flywheel, but the amount of resistance you can build up will be limited, resulting in a not-so-difficult full-body sweat session.
Consider the nice-to-have elements that will enhance your overall experience. Do you want a tablet holder to watch Selling Sunset while pedalling? What importance do you place on a water bottle holder? What about an LCD touchscreen monitor? And what metrics do you want the LCD display to show? (Consider heart rate, cadence, or watts.)
Always read the reviews – the last thing you want to do is spend half of your last month's salary on an unsteady, creaking bike that ends up collecting dust in the corner of your bedroom.
How Much Do Indoor Spin Bikes Cost?
For roughly £250-£300, you can find study indoor bikes that work for spinning. These will be simple machines with light flywheels and minimal resistance settings.
If you can stretch your budget to £500-£1,000, your options expand to include larger flywheels, higher resistance, and smart bikes that can link to partner applications for guided workouts.
The cost of an indoor cycle might quickly skyrocket from there. The finest connected spinning cycles with built-in displays cost between £1,000 and £2,000, while the bikes that provide an extremely realistic ride experience to help you train for outdoor cycling cost £3,000.
Wrapping Up
We hope our list of spin bikes has helped you select what type of indoor spin cycle you want to buy because there are a lot of different features that might be a little confusing at times. Check that the ride is comfy! This is critical even if you have to purchase a few extras, such as spinning shoes or a gel seat cover.
If you truly want to make the bike suit you comfortably, you can even swap the seat/pedals on most models. It is critical to carefully set up your spinning cycle, and there are a lot of training videos available to assist you to stay safe and comfortable while working out.
We would also encourage stretching completely after a workout, as many individuals get off the bike after the warm-up and head straight home. It will aid in your recuperation by reintroducing oxygenated circulation into the muscles and aiding in the dispersal of any lactic acid that has accumulated throughout your workout.
Some FAQs On Indoor Spin Bikes
Q1. Will I Lose Weight With Indoor Spin Bikes?
The short answer is that spinning can help you achieve a calorie deficit, but only as part of a well-balanced food plan (we dislike the term diet). Simply said, if your body expends 2500 calories on an average day and you ingest 2500 calories, you will not gain or lose weight. If you continue to consume 2500 calories but add a spin session to your regular day, you will likely be burning 2900 to 3100 calories, putting you in a calorie deficit of 400-600 calories. In this situation, yes, you will lose weight.
Q2. Why Buy An Indoor Spin Bike For Home?
The most significant advantage of purchasing a spin cycle for home usage is that you may use it whenever you choose, making it simple to utilize consistently.