Are you looking to purchase home multi gym machines? You probably might have faced trouble deciding on which multi gym machine is the perfect among all. We are here to help you.
You might spend a lot of time and money amassing a collection of enough dumbbells, kettlebells, and resistance bands to put your local commercial gym to shame, or you could simplify things and look to a single do-it-all equipment to help you achieve your fitness objectives.
Enter the multi gym machine: an all-in-one solution that gives you everything you need without the inconvenience of gym lines or sweaty equipment. Good Home multi-gym machines should be able to gently challenge your biceps, triceps, shoulders, back, and more, with both strength and endurance increases, as well as a variety of exercises to ensure you don't ignore your lower body. Multi-gyms may engage a variety of muscle groups while reducing the need for a gym bag. While they take up a lot of space and require some getting used to, the rewards, like your gains, will be enormous.
Our List Of Affordable Home Multi Gym Machines
Here's our rundown of the awesome home multi gym machines available right now: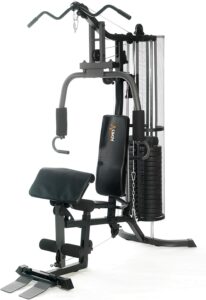 A perfect home multi gym on this list.
There's a reason why the 7400 rarely leaves the amazing selling lists. Thoughtfully designed with everyone's fitness levels considered, you can exercise everything from your arms to your glutes, back to your shoulders from the comfort of your own home.
This compact multi gym allows you to challenge yourself and build the body you've always wanted. What's more, you can easily adjust your workouts with the multi-position seat giving you extra support for all those trickier moves.
With numerous workout stations included such as an adjustable preacher pad, one-piece butterfly press, high & low pulley, and more, you'll be able to develop the perfect workout routine that works for you. A solid bit of kit, you'll be hardpressed to find a more suitable multi gym that can cover all of your requirements.
---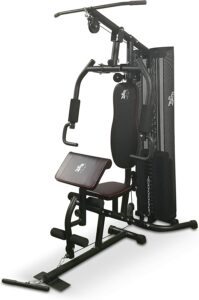 There's nothing like a comprehensive total body workout to get you pumped and energised! Fortunately, that's where the FIT4HOME 7080A model excels.
Whether you want to focus on your legs, biceps, triceps, back and shoulders, you can do it all in comfort with the extra padded, adjustable seat to avoid any unwanted exercise fatigue.
Made from the highest-grade materials and designed to let you cover whatever workout you like, such as chest press, bicep curls, lat pulldowns and more – this clever bit of kit is worth the investment.
Incredibly simple to set up and use, the FIT4HOME 7080A gym should feature in the first place on your list.
---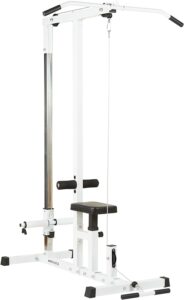 Hardcastle's Home Pulldown Gum covers all the essentials to start building your own workout space.
Featuring a comfortable padded bench and easy to grip cable and bar for pull downs and rowing exercises. Able to hold Olympic sized discs, Hardcastle has raised the bar with their latest design.
If you want to push yourself further, this kit will only take you so far with its limited pulldown stretch capabilities.
But if you're going to focus on your triceps, curls, pullups for shoulders, leg extensions and more, this budget gym might just be the home gym you've been searching for.
---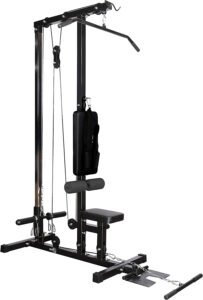 The one that has turned even the most sceptical customers, the RIP X, smashes all the doubter's expectations! With its incredibly sturdy and well-thought-out design, you can carry out a wide variety of exercises with just this versatile piece of kit.
Super simple to set up, well manufactured and featuring good symmetry and alignment, you'll be challenging yourself into a sweat in no time.
Ideal for those who want to do lat pulldowns, arm curls, weighted ab crunches, and more, the RIP X grows with strength as you do. Comparable to what you would find at your local gym, this multi home gym is well worth a look.
---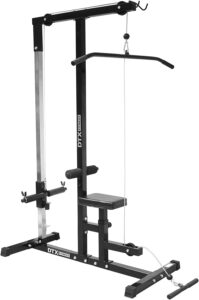 Rarely do you come across a home multi gym that incorporates easy assembly, a solid structure and good value for money. Then you find the DTX.
Incredibly versatile and able to switch up your plates to Olympic standard, you will get every muscle in your body working with this piece of kit. The setup is ideal for pulldown exercises and seated rows.
Whether you're a beginner or taking on more advanced workout routines, the DTX is a perfect entry-level cable machine to bring home.
---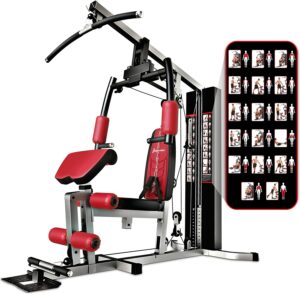 Long gone are the days when innovative, well-thought-out machines are only available at the perfect fitness suites in town. Just by looking at the Sportstech, you know that this is a serious piece of kit.
Bursting with over 45 different exercise options, you'll never get bored working out. Whether you're using the latissimus pull tower, the biceps curl bar, bench press station, stepper or dip station, there are absolutely no limits to your home fitness training.
Down to the finest detail, the Sportstech delivers. You can feel confident as you train regardless of your fitness levels and know that the equipment you are using won't fail you. What's more, it's undeniably an eye-catching piece of equipment!
---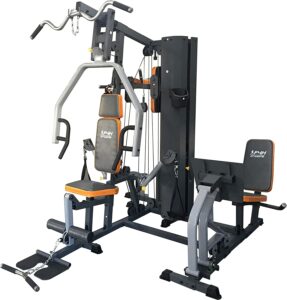 One thing's for sure, the FIT4HOME TF-3003C model, although pricey, pushes the boat out. It doesn't compromise on quality or deliver a highly comprehensive total body workout.
Featuring 80kg weight plates and various workout stations, you can tone up, lose weight, build muscle and increase your stamina all in one place.
Thoughtfully designed and including a preacher pad, heavy-duty cables and a supremely comfy backrest, you can work out in confidence.
For the price, there come high expectations, and the TF-3003C delivers. Your investment will undoubtedly pay off.
---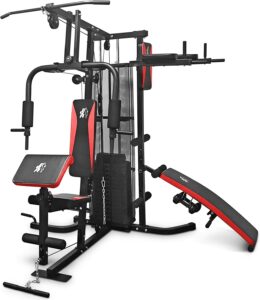 Our third offering from the Fit4Home range comes the versatile TF-7005A.
Unlike the other models, this one sits in the mid-range of the budget, but without the features that got us so excited with the TF-3003C. Still, you can expect a full, comprehensive total body workout all from the comfort of your home, just without the bells and whistles!
Train your back, abs, shoulders, chest and more by using over 50 different exercises. Whether you favour bench press, rowing, bench crunches, arm presses or standing triceps, the world's your oyster. So cancel your gym membership, and invest in the TF-7005A. You might surprise yourself!
---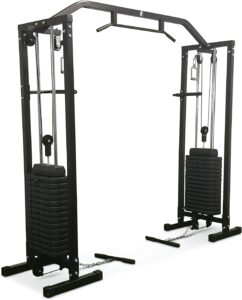 Fit4Home's TF-1007 model doesn't shy away from all the things we love about this brand. Whether you want to blast out some chinups, train your biceps or build up your back muscles, this cable crossover setup might be the home gym you've been searching for.
Sporting 200kg weight plates to test anyone's fitness levels and boasting multiple workout stations, you'd be hard pressed to find a similar bit of kit on the market within the price range.
Built with high-quality materials such as a sturdy solid steel frame and heavy-duty cables, this multi home gym will support your training from entry-level and beyond.
---
Compact, incredibly user-friendly and offering a wide range of exercise possibilities, the D Pro T hits the mark. With the included pre-loaded 50kg weight plates, you'll have more than enough kit to get you started.
Once you've figured out the configuration that suits you, you can focus on all your main muscle groups to increase strength, lose weight and build your stamina.
The D Pro T is highly adaptable and allows you to modify and add other pieces of kit to enhance your experience, such as a triceps pulldown rope.
---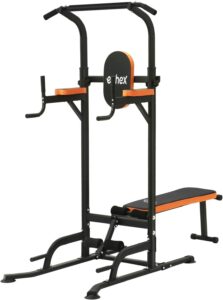 Designed to improve your posture while you workout, the ephex Power Tower takes home workouts to the next level. Boosing your confidence, mood, energy and focus, you'll notice the difference quickly.
Versatile and boasting a multi-function design to accommodate most physiques and exercises, you'll be feeling the burn before you know it! Whether you are performing pull-ups, dips, pushups, raised knees and more, the ephex will support you along the way.
For additional flexibility, you can easily remove the weight bench during your strength training workout for extra space and moveability.
---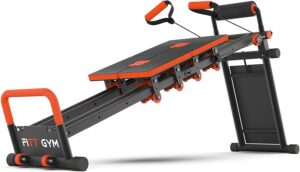 If you want to mix up your home fitness suite, then the FIIT Gym is the way to go. The highly versatile three-in-one design incorporates a bodyweight gym, ab trainer and pilates reformer, allowing you to push your body to its greatest capabilities.
Whether you lie flat or choose from one of the incline settings, you can adjust the incline leg to where you feel most comfortable. The stronger you get, the more you can increase the incline. It's as simple as that!
Perfect for building up a regular at-home fitness regime, your exercise options are limitless with the FITT's innovative design.
---
How Much Space Do We Need For Multi Gym Machines?
Home Multi gym machines come in a variety of styles and sizes. Finally, the amount of space you require is determined by the size of the multi-gym as well as your personal height and body proportions. Obviously, the ultimate placement should be out of the way, rather than, say, smack dab in the middle of the living room. Make sure it's on a flat, solid surface with enough space around it for workouts like overhead tricep extensions.
What Accessories Do Multi Gym Machines Come With?
Most multi gym machines include a variety of attachments that expand the workouts and muscle areas you may target. Take note of which attachments are provided, as well as the sections of the body they are intended to assist in. Everything from triceps ropes to ankle and wrist restraints might be additions to your multi-gym regimen.
What Kind Of Pulleys Do Multi gym Machines Have?
Most multi gym machines include high and low pulleys that allow for routines like lat pull-downs and leg curls. The type of pulleys you choose can also affect the amount of resistance you feel throughout repetitions and sets. Look for pulleys with linear ball bearings for a smoother operation, or sealed bearings for something with better longevity and capacity to resist regular usage.
Are Multi Gym Machines Adjustable?
Adjustability in a multi-gym machine is mostly determined by where you sit or rest your head (or back) during sessions. The capacity to adjust the position of your seat not only indicates that you can execute exercises correctly, but it should also indicate that you are in a more comfortable position. The only tension you should feel is on the muscles you're working on right now.
How Heavy Should a Multi Gym Machine Weight Stack Be?
Simply put, the weight stack in a multi gym machine is what you'll be lifting (though not all at once). Weight stacks in multi-gyms can range from 50kg to 100kg. If you're new to lifting, start at the lower end of the scale for something more manageable, but leave room to get heavier if you're comfortable with your technique at smaller weight weights. Go heavy if you already know what you're used to lifting in the gym and are confident in going large right away.
Can We Lose Weight Using Multi Gym Machines?
While lifting weights is more beneficial for muscular building, it will also help you lose weight by burning calories and raising your metabolism. It's obviously not the same as a cardio-focused activity like jogging or cycling on a treadmill or exercise bike, but combining the two is a proven method to burn calories at record speed.
Wrapping Up
We hope you liked our detailed article on home multi gym machines and now will be able to easily buy one of the above-listed machines for your home. If not yet decided then let us give you a suggestion. Now that you have found the motivation you've been searching for to improve your health and fitness, why not invest in DKN Studio 7400 Compact home multi gym machine to get you started? Trust us; you won't regret it.