The home cross trainer machine, also known as an elliptical machine, has two big platforms on which you stand that allow your feet to roll from heel to toe exactly as when walking or jogging, but because your feet never leave those platforms, you don't feel the same stress on your joints and muscles.
Unlike a treadmill or exercise cycle, a cross-trainer trains your upper body through two handles that you push while using it, making it an excellent choice for households with just one piece of equipment (and that area isn't long enough for a rowing machine). Our finest home cross trainer machines are listed below to meet a variety of preferences and budgets, as well as a buyer's guide to help you narrow down your options.
What Is a Home Cross Trainer Machine?
A home cross trainer machine, sometimes known as an elliptical trainer, is an exercise equipment that works the same muscles and cardiovascular system as running by climbing and power walking against resistance, but without the stress that treadmill jogging does.
One of the most popular pieces of cardio equipment at the gym is the cross trainer. The cross trainer, which consists of two footrests and two handles that you push and pull, delivers a full-body, low-impact exercise. To operate a home cross trainer machine, stride your feet while pulling and pushing the grips to work numerous muscles at the same time.
What Are The Types Of Home Cross Trainer Machines?
When selecting a cross trainer for your house, it is helpful to understand that there are several varieties available:
Magnetic – The first distinction is whether the resistance is magnetic or electromagnetic. Magnetic cross trainers are often operated by a knob or lever, whereas electromagnetic cross trainers are controlled by a console button. The electromagnetic models provide a far larger range of resistance and are better suited to expert exercisers, although they are slightly more expensive.
Flywheel – The second distinction is the location of the flywheel. The pedal action is generated by the flywheel. Some are at the back, while others are in the front. A runner should get a rear-driven cross trainer since the motion it produces is more similar to a natural running action. Front-wheeled cross trainers are more circular or resemble climbing steps than running shoes.
Our List Of Affordable Home Cross Trainer Machines To Boost Fitness Levels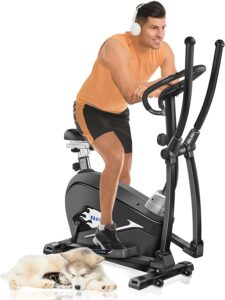 Offering maximum support and 8 adjustable magnetic resistance levels to choose from, the Neezee is a flexible piece of kit that adapts to your fitness levels. You can confidently hold on tight to the soft, sweat-resistant handlebars as you focus on enhancing your blood circulation, burning calories and more.
As soon as you start exercising, the intuitive LCD digital monitor and heart rate plus sensors record your statistics in real time. Whether you want to gently workout or get your heart pumping, this cross trainer ensures a comfortable, fluid workout experience that is second to none.
Pros
Maximum support and anti-slip pedals for extra stability and comfort
Smooth and quiet two-way flywheel and V-belt drive
Ideal for low-impact exercise
Track your progress and heart rate as you exercise
Flexible 8-level adjustable magnetic resistance
Portable, compact and easy to store
Cons
Assembly instructions could be clearer
May struggle to adjust pedals
---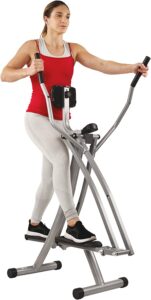 Sunny Health has delivered an incredibly compact and easy-to-use machine. If you're limited on space but want one of the perfect cross trainers around, this one is well worth a look.
Not only do you get the perfect aerobic workout with all the benefits of stretching, running, skiing and more, but the simple yet effective design ensures minimal damage to your body.
Featuring a nifty adjustable abdominal pad, you can push yourself out of your comfort zone, all while keeping track of your total distance, calories, time and speed on the easy-to-read LCD monitor.
Pros
Smooth and quiet ride that won't disrupt your household or TV viewing pleasure
Incredibly compact and easy to fold away
Total body workout
Promotes aerobic training
Keep track of all your progress with easy read LCD monitor
Cons
Limited resistance
Small pedals
---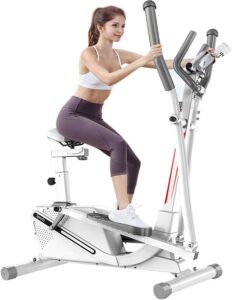 One thing that Dripex excel at is designing high-end pieces of kit without a hefty price tag.
Their recent upgrade to the classic trainer machine can support up to 265 lbs and ensures you get a full-body workout from the 8 adjustable magnetic resistance levels.
With its professional-looking design, sweat-resistance handlebars and advanced LCD digital monitor, you can plan and record all your health statistics with minimal effort.
What's more, you can enjoy all the convenience of working out from home, and when you're done, simply fold up and roll away to your storage space. Simple.
Pros
Super smooth and quiet
Challenging 8-level adjustable magnetic resistance
Advanced LCD monitor and pulse rate tracker
Soft, sweat-resistance handles and anti-slip pedals
Heavy-duty frame and advanced design
Easy setup and set down
Cons
Heavy to move
Assembly instructions could be clearer
Slight wobble on the seat
---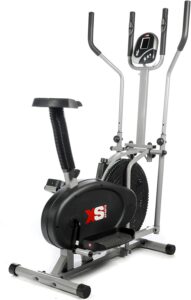 When you are on a budget, cutting-edge sports equipment can be hard to come by. Fortunately, XS Sports decided to change that with the Luna Pro.
Incorporating bidirectional movement for quad and hamstring training with its cross-training feature or switching to the exercise bike mode gives you one of the fullest at-home workouts available.
Super lightweight and compact, you can easily move the Luna Pro around the house.
With the built-in pulse sensors, you can keep an eye on your heart rate and push your body to its limits from the comfort of your own home.
Pros
2-in-1 cross trainer and exercise bike
Adjustable resistance for high and low-intensity workouts
Multi-function LCD display to keep track of your progress
Easy to move around the house
Minimal assembly required
Extra-wide platform pedals and a large comfortable seat
Cons
Slightly wobbly structure at high speeds
Need to retighten nuts and bolts regularly
Can be noisy
---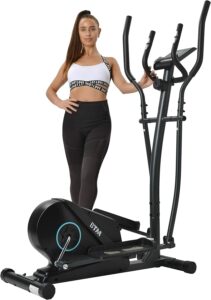 Creating your at-home gym is made so much easier when you have the right equipment. That's where BTM excels.
You get a full-body workout with the 8 resistance levels, which mimic the natural path of your ankle, joints and knees to make your fitness journey as low-impact as possible.
Designed with extra-wide footboards, you can exercise as intensely as you like without having to worry about slipping or injury. What's more, you can exercise to your heart's content and not disturb your household while you pedal the 5KG flywheel.
Pros
8 levels of resistance to choose from
Mimics natural movements to reduce injury or strain
Extra-wide footboards
Record workout stats in real time with LCD monitor
Minimal noise distraction
Easy setup and assembly
Cons
Slight wobble at speed
May need an additional rubber mat for floor protection
---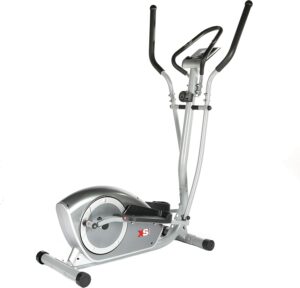 Super sturdy and built to last a lifetime, the CT700 features all the qualities you'd expect from a professional fitness suite.
Combining elliptical training for all levels with a 5.5KG flywheel, you can target everything from your hamstrings to improving your cardio for the perfect workout.
Designed and developed alongside industry professionals, you'll struggle to find a better piece of kit on the market.
Pros
Sturdy and robust design built to last
Suitable for people up to 110KG
Full body workout
Built-in tablet and phone holder
5.5KG flywheel to push yourself to the max
Precise LCD displays and sensors
Virtually silent
Great value for money
Cons
Slight wobble at high speeds
May need extra assistance during assembly
Some bolts become loose over time
---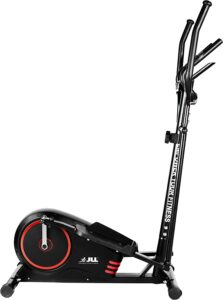 Designed to be both stylish and durable, the CT200 bursts with a whole heap of features such as 8 levels of magnetic resistance and dual-action handlebars with sensors.
The machine excels at stimulating climbing, running or walking while decreasing the risk of impact injuries as you exercise.
What's more, you can have confidence as you push yourself to reach higher intensity with the non-slip footplates and outstanding 5KG two-way flywheel.
Pros
Stylish and durable design
8 levels of magnetic resistance
Suitable for all fitness levels
Two-way 5KG flywheel
Dual-action handlebars and sensors
7-function digital display
Cons
Assembly instructions could be clearer
Tension wire is fiddly to connect
Occasional missing parts
---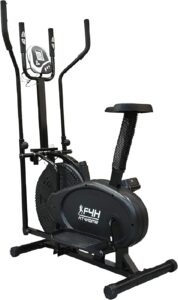 Perfect for those on a budget, there's a lot to like with Fit4Home's latest cross trainer.
With its straightforward and sturdy design, you can improve cardio performance, promote blood circulation, increase lung capacity and more.
One of the most significant selling points is the included pedal action, enabling you to combine your workouts.
Whether you want to work your lower body, arms and shoulders, you will quickly notice an improvement in your strength and stamina in no time.
Pros
Budget-friendly
Compact, easy to use, and store
All-round workout
Straightforward assembly
Cons
Squeaky machine joints
Limited by materials used
Loses stability at high speeds
---
Bursting with all the style fit for a professional fitness suite, the Sina incorporates an impressive 32 levels of computer-controlled magnetic resistance and 20 motivational programmes to help you reach your goals faster.
Relatively quiet and incredibly comfortable to use, you can make the most out of any workout at your pace with this innovative piece of equipment.
Pros
20 programs to keep you challenged and motivated
Intelligent computer-controlled magnetic resistance
Sturdy, stylish design
Large, comfortable footplates
Value for money
Cons
Clearer assembly instructions needed
Must be on a flat, stable surface
The calorie counter needs an upgrade
---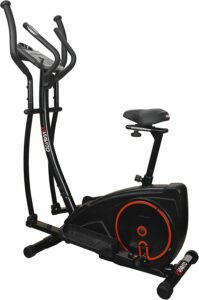 Whether you want to get in shape using an elliptical trainer or exercise bike, the Setry 2-in-1's got you covered.
Just like the Sina, you get 32 levels of computer-controlled magnetic resistance to choose from, pushing you to reach your fitness goals at your own pace.
Combined with anti-slip, oversized footplates, an adjustable seat and an intuitive heart rate sensor, you get your money's worth.
Pros
2-in-1 design elliptical trainer and exercise bike
5KG flywheel and impressive 31.2cm stride length
4 user profiles for saving personal data
32 levels of computer-controlled magnetic resistance
20 programs to keep you focuses and motivated
Comfortable and safe
Hand pulse sensors to keep track of your progress
Cons
Data loss when switched off at mains
Assembly instructions could be clearer
Additional rubber mat needed to prevent floor damage
---
Things To Consider When Shopping For a Home Cross Trainer Machine
Before making a purchase, consider the following factors, ranging from size to price:
Size – Double-check the size. Foldable cross trainers are now available, which are ideal for the saving room.
Durability – How strong is it, and does it come with a warranty? Most household appliances are manufactured to a reasonable quality, but things break and you don't want to be out of pocket after investing that money.
Cost – Ultimately, the cross trainer machine you choose must be appropriate for your objective and situation, as well as your money.
Console – How technologically savvy are you? You might want to be able to check power, speed, calories, and distance, as well as a link to your favourite fitness devices through Bluetooth.
What Are The Benefits Of Using Home Cross Trainer Machines?
Home Cross trainer machines provide several advantages to runners. So, if you're on the fence, stay reading for the benefits, as well as an evaluation of the finest ones to buy.
Injury rehabilitation and prevention – Because cross trainers are low impact, they can help you continue to work out even if you are injured. The urge to push through ailments in order to keep to your running plan or meet your weekly goals is strong for the majority of ardent runners, but it is not always prudent. Small injuries have a propensity of worsening if not treated properly, and nothing is more irritating for a runner than being unable to exercise.
Manage intensity – Using a cross trainer makes it easy to keep track of your workouts. It is relatively simple to control intensity on a cross trainer by adjusting the resistance and steps per minute (SPM). Running in various HR zones is a frequent technique for runners to train, whether it's a low-intensity recovery day, a tempo run, or an interval session.
Upper body training – While runners' calves are frequently incredibly strong, our upper body power is often disregarded. Cross trainers help build and tone your arms (biceps and triceps, back, chest, and core), making them superior to jogging. Depending on your goals, the cross trainer machine may be a superior alternative for achieving numerous training benefits at once.
Closing Thoughts On Home Cross Trainer Machines
If you want to purchase an advanced home cross trainer machine for yourself, it might be a terrific approach to achieve your fitness objectives, both cardio and strength-based.
These high-quality elliptical trainers are ideal choices for a home-based gym for anything from obtaining the perfect body shape to reaching peak fitness levels.
While selecting the proper model of cross trainer might be difficult when there are so many to pick from, our extensive guide should have assisted you. Choose the perfect one for you from our selection based on your fitness objectives!
Some FAQs On Home Cross Trainer Machines
Q1. Are Home Cross Trainer Machines Good For Weight Loss?
Whether you're doing HIIT (high-intensity interval training) or LISS (low-intensity steady state) exercises, the finest cross-trainers may be a great way to get sweating and burn calories. However, and this is an essential caution, losing weight requires continuous exercise, a balanced diet suited to your objectives, and stress and sleep management. It's also important to consider why you want to reduce weight: always prioritize your feelings before your appearance.
Q2. Can Home Cross Trainer Machines Burn Belly Fat?
Using home cross trainer machines to lose belly fat will not help, nor will any other piece of exercise equipment. What you can do is lower your total body fat percentage, which will aid in the removal of belly fat. That, along with understanding the optimum macros for fat reduction, can help you achieve your objectives in a more sustainable manner.
Q3. Are Home Cross Trainer Machines better than Treadmills?
The finest workout is the one you're about to perform. If you enjoy running on a treadmill, it is most likely the perfect option for you. If you're searching for a low-impact choice, a cross trainer machine may be easier on your joints, but they'll both work up a nice sweat. So let's get started!