You've finally decided that it's time to transform your spare tire into steel abs, your pencil arms into overfed swans, and your chest into two sculpted peaks of glory.
You'll need a home gym to complete this makeover. We'll guide you through a simple yet effective set of garage gym equipment. You'll be able to shut yourself in your garage like the humble caterpillar with these must-have pieces of gym equipment. Then, after much effort, blood, sweat, and tears, you will emerge as a lovely butterfly.
Our Handpicked Collection Of Affordable Garage Gym Equipment For Home
Whether you want to improve your fitness or push your body to its limits, here's our roundup of the amazing home or garage gym equipment you can buy: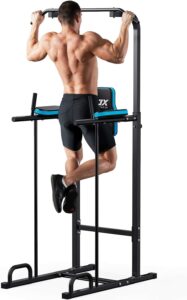 Rarely off the number one finest-selling spot, the JX Fitness Power Tower is a must-have home gym accessory.
With 5 adjustable heights to choose from, you can quickly improve your upper arm and back strength.
Whether you want a full-body workout or want to focus on specific exercises such as push-ups, abs, vertical knees and more, the ergonomic design will ensure you avoid potential sports injuries.
Pros
5 adjustable heights
Heavy-duty construction to give you all the confidence you need to exercise to the max
Perfect for a full-body workout
Ergonomically designed to minimise injury
Thick padded back and armrest for extra comfort
Great for targeting specific areas such as shoulders, back, chest and arms
Suitable for all ages and fitness levels
Cons
Push up bars are close together
Assembly is easy but takes time
---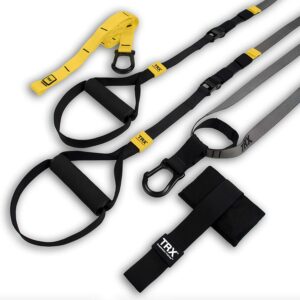 Perfect for working out on the go, the TRX Go Suspension Trainer is perhaps the lightest and leanest piece of kit around.
It's excellent for toning, tightening and sculpting your body wherever you are – office, outdoors or at home.
Helpfully, TRX has included over 300 exercises to inspire your next workout. Whether you want to strengthen your core or do a full-body workout, suspension training is proven to stimulate and condition the core. With its quick setup and compact design, you can burn fat and build lean muscles in no time at all.
Pros
Workout anywhere with setup taking less than one minute
Total body results and over 300 exercises to choose from
Lightweight, compact and easy to store
Perfect for strengthening your core
Advance at your own pace
Two online bonus workouts included
Cons
Occasional packaging issues
Quite pricey
---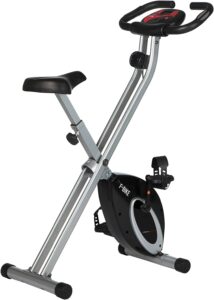 Ultrasport is redefining the F-Bike industry, and this model is a testament to its innovative design and craftsmanship.
Sporting 8 resistance levels boost your cardio fitness and strengthen your circulatory system; the F-Bike belongs in your home gym.
Featuring a built-in training computer, you can track your progress during each workout and keep an eye on everything from time, distance, calories expelled and more.
Easy to set up and fold away when you are done; you'll be fitter in no time!
Pros
Effective muscle strengthening with 8 resistance levels to choose from
Quick and easy set-up
Lightweight and compact to store
Innovative training computer with LCD display
Cons
Limited by resistance settings
Uncomfortable seat
Pulse sensor can lag
---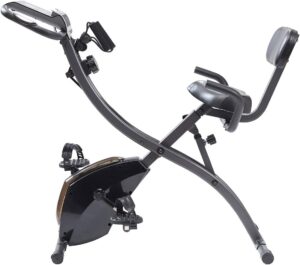 If you want to get your heart pumping, sculpt, tone and strengthen everything from your arms to your chest and more, this exercise bike will get the job done.
Featuring eight levels of magnetic resistance, it's also suitable for virtually all fitness levels.
With its super-sized display, you'll have no trouble keeping track of every mile you've ever ridden, calories burned, and distance travelled. What's more motivating than that?
Pros
Highly versatile and suitable for all fitness levels
Eight levels of magnetic resistance
Virtually silent while in use
Track your fitness journey from start to finish
Easy read super-sized display
Read or watch your favourite shows as you workout
Includes free Echelon Fit App 14-day trial – train with the professionals
Cons
Fiddly initial setup
Additional backrest cushion would be beneficial
---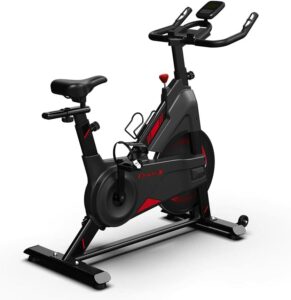 Nothing screams high-end quality more than Dripex's latest indoor studio cycle. Super stable and built from heavy-duty steel construction, you'll feel confident in its robust design.
Then there's the thoughtfully designed 6-level adjustable saddle height and handlebars that can be easily adjusted to your preference.
What's more, the nifty LCD monitor displays all your personal bests from time, speed, distance and more to give you insight into your progress. Effective workouts with uncompromising results. It's a thumbs up from us.
Pros
Helpful LCD monitor and pulse sensor to keep track of your progress
Bidirectional resistance bar to adjust tension levels for more intensity
Unbelievably smooth and quiet ride
Super sturdy and durable design
Adjustable saddle and handlebar
Cons
Not suitable for anyone 5"10+
Uncomfortable seat
Not ideal for people with limited mobility
---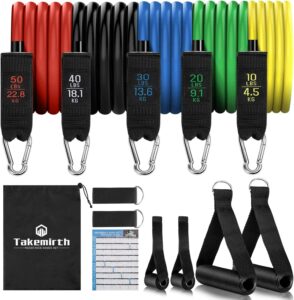 Super portable and sporting a range of resistance levels from 10lbs to 50lbs, these are the perfect addition to your at-home gym.
You can easily integrate resistance bands into your current exercise programs, such as yoga, pilates and beach body exercises.
Whether you want to strengthen your core or target specific areas, this is one of the most versatile pieces of gym equipment.
Pros
Portable, lightweight and compact
Can be used individually or stacked together (150lbs in total)
Meets your fitness needs at each stage
Easily integrated into all exercise programs
Enhances full-body workout
Better fitness results
Saves time and money
Cons
Limited workout information included
Hand grips could be bigger
---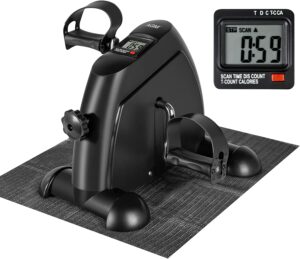 Exercise is at its best when it is accessible regardless of your fitness level or ability. Enter the Mini Exercise Bike Pedal Exerciser Resistance Cycle Indoor Gym Office, Fit Black.
Perfect for stimulating circulation and toning arm muscles, you can work out from the comfort of your chair as you work or watch TV.
Featuring a clever tension rope, you can simultaneously work on your cardio and upper body strength. It also includes eight levels of adjustable magnetic resistance, which allows you to switch between low-impact for rehabilitation purposes or focus on higher intensity for building up your strength.
Pros
Highly versatile and easy to use
Features 8 levels of adjustable magnetic resistance
Perfect for all levels of fitness
Smooth and quiet under desk bike
A non-slip foot pedal and adjustable height
LCD monitor to keep track of your progress
Cons
Additional rubber mats are needed for certain surfaces
Requires effort to stabilise
---
An all-rounder, the Naspaluro allows you to target specific areas of your body to give you a complete workout.
With 7 different adjustable positions, you can do everything from bicep curls to bench presses, dumbbell pushes and more.
When it arrives, the Napaluro is almost completely assembled, so you can start working out within minutes of setup. Featuring a super comfortable and ergonomic design, muscle fatigue and any potential damage to your joints and muscles are cared for by supportive high-density foam cushioning.
Pros
All-body workout – 7 adjustable positions to choose from
Super stable construction – worry-free workouts
Comfortable and ergonomic design to reduce the risk of injury
Sit-up supine board can be used alongside other fitness equipment
Suitable for any fitness level
Quick and easy set-up
Cons
Resistance levels could be improved
Requires disassembly to fold down
---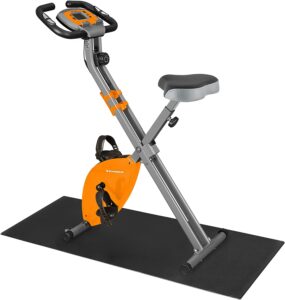 Not only is the Songmics easy to use, but you can easily keep track of all your progress on the large display screen.
There you can clearly read your speed, calories burned, pulse, distance and current timings to give you all the motivation you need to reach your fitness goals.
What's more, you can exercise wherever you like without waking up your family or blocking out the sound of your favourite TV show. When you're done, fold it up and roll it over to your storage space.
Pros
Get fit in silence
Clearly read your progress on the large display screen
Easy setup and set down
Exercise anywhere
Comes with a durable PVC floor mat
Excellent build quality and compact design
Cons
Basic monitor
Some features are loose-fitting
Bonus instructions would be beneficial
---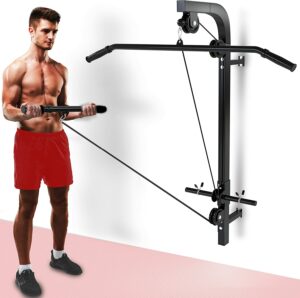 The Senshi is not only highly versatile, but you can perform all your favourite upper and lower body workouts in one gym machine.
Simplicity may be at the heart of its design, but what you get is an ultimate addition to your at-home gym without breaking the bank.
Easy installation and setup mean you can get working out within minutes. What's more, the Senshi can bear up to 200 kg without needing to buy specialist weight plates, as they are all included in the kit.
Pros
Everything you need for a full-body workout
Easy setup and installation
Can bear up to 200KG
No need for additional specialised weight plates
Work out anywhere in your home or garage
Low maintenance and durable design
Cons
Fixed straight bar
Not suitable for heavy-duty training
Small hook locks provided
---
How to Choose the Perfect Garage Gym Equipment?
As previously said, the ideal home gym equipment will vary from person to person. A CrossFit trainee's home gym will appear different from a bodybuilder's home gym. Regardless of how you exercise, here are some general rules to consider when selecting garage gym equipment that works for you.
1. Purpose – Does the equipment perform what it is supposed to do and does it well?
2. Price – Obviously, you'll want to ensure that you can afford the equipment you'll need for your home gym. If you need to break your purchase into monthly instalments, many equipment manufacturers and third-party websites, such as Amazon, will provide financing alternatives. You may also check our coupons page to see if your favourite manufacturer has a coupon code or a discount. We've also negotiated unique discounts with a number of firms, so check to see if we have one for the item you're interested in.
3. Warranty – We're certain you'll take good care of your home gym's equipment, but occasionally it's malfunctioning or breaks down just a few weeks after you have it. Investigate the warranty for each piece of equipment you intend to purchase and add it to your final cost calculations. It may be worth paying an extra $100 for an item with a 10-year guarantee simply to have that piece of mind. Examine the warranty to see what it covers. Weight benches, for example, have different guarantees for the steel structure than they do for the fabric.
4. Versatility – A piece of equipment that can perform various functions or be utilized in multiple training scenarios outperforms one that can only be used for one.
5. Materials – You should consider how durable the materials used in your home gym equipment are, and some people may want to ensure that their equipment does not include anything to which they are allergic or sensitive.
6. Size – When it comes to home gym equipment, size counts. People with longer strides should opt for a treadmill with appropriate running space, while those with smaller hands should look for a dumbbell or barbell that they can comfortably wrap their hands around.
7. Space – This is self-explanatory, but make sure that all of your gym equipment will fit in your exercise space. If you don't have a large garage gym, you might opt for smaller training equipment.
8. Max weight capacity – You'll want to be sure your equipment, whether it's a barbell or an exercise bike, can withstand everything you throw at it. The maximum weight capacity of a product is generally listed by the manufacturer.
9. Style – This is secondary to the usefulness of your equipment, but having attractive home gym equipment helps. Many manufacturers now enable you to choose the colour of specific goods, which may help your home gym seem as stylish as possible.
10. Safety – This might entail a variety of things depending on the product, but in general, you want to check sure the equipment is free of anything that could injure you. This implies having spotter arms for a squat rack and having tensile strength that won't shatter under the weight you're putting on barbells.
What Are The Benefits of Garage Gym Equipment?
We may be prejudiced, but we believe home gyms have several benefits over commercial gyms. Here are a few of the reasons why everyone, from apartment dwellers to homeowners, should invest in home gym equipment.
1. Saves Money – Yes, buying home gym equipment may be expensive (particularly if you buy everything at once), but when you include in the cost of monthly gym subscriptions over the course of your life, constructing your own setup saves you money in the long run. You'll also save money on things like petrol and gym snacks, and you'll have more time in your day to spend with your family and friends.
2. Convenience – Imagine you can't sleep in the middle of the night or early in the morning. You want to get out to relieve stress, but the gym is closed. However, if you have a home gym, you may work out at any time. You may also listen to music as loud as you like (as long as you respect your neighbours and housemates) and use items such as chalk, which many commercial gyms forbid.
3. Customisable – Commercial gyms may not offer the equipment you want for your training goals unless you subscribe to a speciality gym, which often has higher membership rates. If you build your own home gym, you can make it exactly as you want it.
4. It's an Investment – This is true not just because you are investing in your general health, but also because gym equipment may be resold. You may not make exactly what you paid for it, but anything is better than nothing. And, depending on availability and demand, certain pieces of equipment may appreciate in value.
Final Thoughts On Garage Gym Equipment
Creating a garage gym is a great method to boost your incentive to work out, minimize your gym commute, and eliminate gym membership payments. With all of the equipment you wish to employ for your individual goals, you may create the ideal training environment.
You don't need a lot of room, and you don't need to spend a lot of money on equipment. Begin with the necessities and then add pieces of garage gym equipment as needed. I hope you found this helpful, and I wish you the best of luck with your garage gym. What equipment do you have in your garage gym? Please tell us more in the comments section.
Some FAQs On Garage Gym Equipment
Q1. What is the perfect gym machine to have at home?
You should think about your training regimen and goals, as well as your budget and workout space. Tonal (excellent for apartments), rowing machines, and functional trainers are some strong ideas for most home gym users.
Q2. What is the most effective piece of garage gym equipment?
A rowing machine is our solution since it strengthens both upper- and lower-body muscles while also providing excellent aerobic exercise.
Q3. Is buying garage gym equipment worth it?
Absolutely! Home gym equipment saves you money in the long term, enabling you to work out whenever you want, and can be tailored to your specific requirements and fitness objectives.