Even if you wish to include more fitness into your day, not everyone has a spare space that can be used as a home gym. While adding workout equipment to your living room may seem like a good solution, no one wants an exercise bike to be a permanent fixture in their living room, always on show or gathering dust in the corner.
As a result, the popularity of folding exercise bikes has skyrocketed in recent years. These revolutionary, lightweight, and portable exercise bikes are not only less expensive and smaller than regular exercise bikes, but they also save room. Folding exercise bikes fold to around half their original size, allowing them to be conveniently stored away when not in use and providing excellent cardiac training from the comfort of your own home.
What Are The Benefits Of Folding Exercise Bikes?
Low-impact workouts – In general, folding exercise bikes offer plenty of cardio advantages for beginners. It can improve your heart, reduce your blood pressure, and help you burn calories, just like any other spinning activity. Furthermore, their ability to save space makes them perfect cardio equipment for tiny apartments.
Our List Of Affordable Folding Exercise Bikes For Home Workouts
If you have limited room at home or want a piece of equipment that can be simply stored out of the way when not in use, you'll need the finest folding exercise bike. Folding exercise bikes are a wonderful method to reduce weight and maintain cardiovascular health for a low cost, making them one of the most accessible pieces of home gym equipment overall. We've compiled a list of some amazing foldable exercise bikes so you can see what's available and what performs well in testing.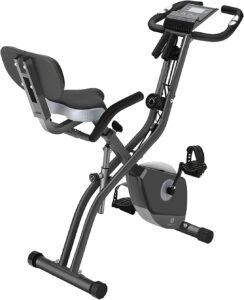 First, off the blocks, the Magic Life sports an ultra-silent magnetic wheel giving you the smoothest and quiet ride.
No more disturbing your neighbours or sleeping family members as you exercise!
You can easily keep track of all your progress with the LCD display and record your exercise distance, speed, time, calories and heart rate in real time.
Easy to fold and taking up minimal storage space, you can exercise anytime, anyplace, within minutes.
Pros
Ultra silent, smooth driving experience
Stay motivated with real-time LCD statistics display
Watch your favourite TV shows and films
Can support up to 264lbs
Saves space with a compact and complete folding design
Adjustable seat and 10-level resistance
Cons
No bottle holder
Additional mat required to protect floors
The seat could be more comfortable
---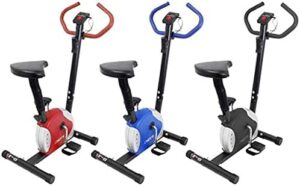 Considered one of the most compact and space-saving folding exercise bikes on the market today, the XLR-8 holds nothing back with its highly accomplished design and build quality.
With adjustable resistance, you can easily tailor your workout routines to push yourself to the next level of fitness.
Lightweight and easy to move and store, you'll have no problem packing this innovative piece of equipment away when you've completed your workout.
Pros
Super compact and space-saving design
Adjustable resistance to suit any fitness level
Lightweight and easy to move
Easy assembly
Budget-friendly
Easily track your progress with the LCD display
Cons
Uncomfortable seat
Additional instructions required
---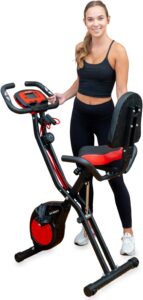 Ever since YYFITT upgraded their already extraordinary foldable fitness bike in 2020, its latest model has stood out amongst its competitors.
Whether you want to train upright or semi-recumbent, you can easily adjust to suit your fitness levels and needs. What's more, the XL backrest has two height options to give you optimal comfort.
Whether you are just starting your fitness journey or are much further along, you get several helpful features such as arm resistance bands, exercise monitors and more to help you achieve your fitness goals along the way.
Pros
2-in-1 upright and semi-recumbent fitness bike
XL backrest for full support and comfort
Adjustable height for optimal workout position
Smooth and quiet cycling
Compact and foldable design
Additional arm resistance bands, monitor and phone/tablet holder
Cons
Assistance required during assembly
Nuts and bolts become loose over time
Frame can become stiff if folded for too long
---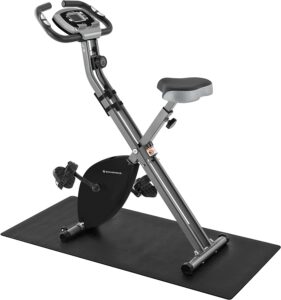 Super easy to fold, store and pack away, the Songmics exercise is one of the most straightforward machines on this list.
You can clearly keep tabs on your speed, distance, calories burned, pulse, distance and current timing on the large display screen – keeping you motivated and focused.
Unlike many of its peers, this bike comes with a durable PVC mat to keep your floors mark-free. Combined with 8 magnetic resistance levels, you can increase the intensity without increasing the noise.
Pros
Easy to fold and roll away
Keep track of all your progress
Comes with a protective floor mat
8 magnetic resistance levels
Silent workouts
Watch your favourite TV shows as you exercise
Cons
Limited by resistance levels if you want to push yourself further
Basic monitor
---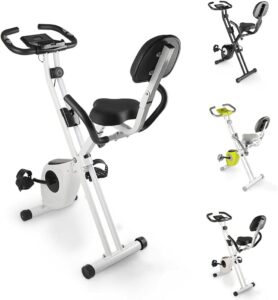 Everything from a sweat-burning workout to slow-paced, low-impact exercise is all possible with the Bigzzia's 2-in-1 upright and recumbent bike.
Combined with its cushioned, 3-level adjustable seat, you can ride in comfort and find your optimal sitting position to get the most out of your workout.
You can also easily adjust your workout with 8 magnetic resistance levels to choose from, allowing you to reach your goals at your own pace. Highly portable and easy to fold, you'll save all your much-needed floor space too.
Pros
2-in-1 upright and recumbent bike
Ergonomic 3-level adjustable seat and pedals
8 levels magnetic resistance
Track progress with LCD monitor and pulse sensors
Easy to move and store
Smooth and quiet ride
Cons
Limited display functions
Cheap materials used for monitor
---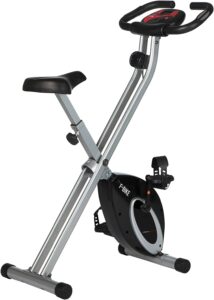 Perfect for gentle endurance training, this folding exercise bike features intuitive hand pulse sensors to keep track of all your progress.
Whether you're a beginner or a pro, this bike is suitable for anyone at any level. What's more, you can easily adjust the saddle to your own specifications to give you the ultimate comfort and workout experience.
Sporting 8 resistance levels to strengthen your circulatory and cardio systems, you'd be hard-pressed to find a better bike. It's also incredibly quick to set up and fold away, giving you all the space you need to keep your home ordered and tidy.
Pros
Collapsible fitness bike
8 resistance levels
Trainer computer with LCD display
Quick set up, compact, and easy to use
Adjustable seat and pedals
Cons
Quite heavy to lift
Assistance required during assembly
Limited resistance levels
---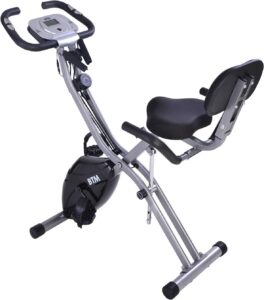 Ideal for home cardio training, the G500 folding exercise bike is suitable for beginners and experts alike.
With 10-level tension control, you can develop your fitness at your own pace. Super sturdy, lightweight, and featuring a thick, firm cushion to keep you supported, you can count on this bike's ergonomic design.
Thoughtfully designed, the LCD display is linked to the chrome handrail sensors to give you real-time progress to keep you motivated.
Pros
Sturdy and lightweight X-construction frame design
Base wheels for easy transportation and storage
Ergonomic design for extra comfort
2.5KG flywheel for smooth and effective cycling
LCD display to keep track of your progress
10 different resistance levels
Cons
Assistance required during assembly
Speed is measured in kph only
Short backrest
---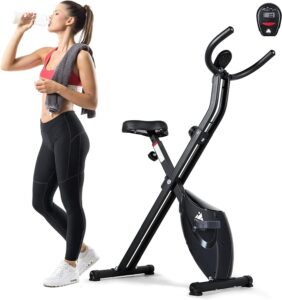 Convenient to use and made from a rugged steel frame, you can exercise with confidence.
With 8 resistance levels to choose from, you can customize your training tensions to suit your workout and ability.
It's also incredibly compact and easy to fold, allowing you to do aerobic cardiovascular exercise at home, office, or garage.
With the built-in LCD screen, you can beat all your personal favourites and keep an eye on your current progress as you ride.
Pros
Can support up to 120KG
Solid and rugged steel frame design
Customise your training with 8 resistance levels
Track real-time progress
Compact and foldable
Exercise anytime, anyplace
Cons
Loses stability at high intensity
Challenging assembly
Instructions could be clearer
---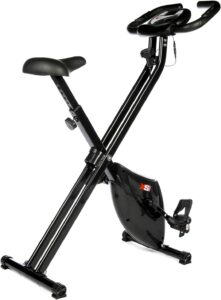 Rarely do you get such cutting-edge equipment in this price bracket?
Sporting premium design principles, a 1.6KG magnetic resistance flywheel and some of the most advanced cardio and distance sensors money can buy, this bike is second to none.
Made from a rock-solid frame that is built to last, you can expect high-end quality from the comfort of your home. Suitable for up to 100 kg, you can reach your desired goals in no time.
Pros
Made from high-quality materials
Adjustable magnetic resistance suitable for all fitness levels
Track your progress with LCD monitor
Compact, lightweight and easy to fold
Ergonomic design for maximum comfort
Adjustable padded seat
Cons
Some users will want higher resistance
Temperamental computer
Weak timing belt
---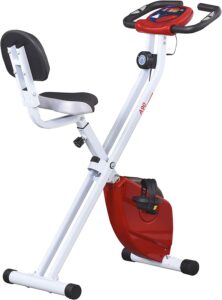 Highly versatile and offering eight different resistant levels to suit you, this bike helps you to keep your body active within your own home.
Fitted with a five-level adjustable seat, oversized pedals, and a front handlebar, your comfort and safety are at the heart of the HOMCOM's design.
You get all the extra support from the X shape design as you work out, which also makes it one of the most compact and easy-to-store pieces of equipment around. That's a win if you ask us.
Pros
8 adjustable magnetic tensions to suit your level
Keep track of your statistics and progress with the LCD monitor
5-level adjustable seat for maximum comfort
Backrest support and large foot pedals
Foldable and collapsible X shape frame
Rubber pads for extra floor protection
Cons
Limited resistance
Uncomfortable saddle
Nuts and bolts become loose over time
---
What To Look For In Folding Exercise Bikes?
Size – Folding exercise bikes are typically far more compact than standard stationary exercise bikes; but, depending on where you want to use it, it's important examining the precise measurements of each product. While selecting a folding exercise bike, consider both the upright and folded dimensions so that it may be stored properly when not in use.
Casters – While not all folding exercise bikes have casters, they do aid with portability if you intend on sharing the bike with family members or moving the bike around your house.
Display – The specifications of foldable exercise bikes vary from one manufacturer to the next, but a decent quality bike should include an easy-to-read display that indicates, at least, calories burnt, distance, and speed. Better exercise bikes will often include integrated pulse or heartbeat monitors to help you analyze the quality of your sessions.
Weight limitations – Because folding exercise bikes are often lighter and fold in on themselves, they frequently have a maximum weight limit that varies from maker to manufacturer. If you weigh more than 100kg (approximately 15 stone), it is advised that you read the bike's entire specifications before purchasing, choosing one with a larger weight capacity or switching to a regular stationary exercise bike if necessary.
How serious are you about cycling? – Are you cycling for fitness, everyday exercise, and recreation, or are you training for a competitive cycling event? While foldable exercise bikes still give an excellent cardio workout, they do not deliver the same levels of resistance as standard exercise cycles. If you take your riding seriously, you might choose a more conventional machine.
Cost – While exercise bikes are obviously less expensive than gym memberships, foldable exercise bikes are more reasonable than stationary exercise bikes, with prices ranging from £100-£300 depending on size, resistance levels, and amenities.
How Much Should You Spend On a Folding Exercise Bike?
In general, foldable bikes are less expensive than traditional exercise bikes, with a good model costing between £200 and £300. Manual bikes are the most affordable, with possibilities under £150 accessible online.
Some FAQs On Folding Exercise Bikes
Q1. Are Folding Exercise Bikes Worth It?
There's no doubt that folding exercise bikes have their uses, but the workouts they deliver are on the gentler end of the scale. The pricing typically reflects this, since most of the bikes on our list are inexpensive. You should not anticipate a strong bike that you can push yourself on for that price; these bikes are designed for leisurely rides while watching TV or a Netflix series.
Q2. How do I clean a folding exercise bike?
This depends on the material, however, most are made of steel and can be kept clean by cleaning with a moist cloth. To keep it clean, remember to wipe it off before and after each usage.
Q3. Can I lose weight on a folding exercise bike?
An exercise bike, depending on the intensity and frequency of your training, is a good way to lose weight, since it may burn up to 600 calories per hour on a stationary cycle.
Final Verdict
While you shouldn't anticipate the same level of quality as you would at your local gym, foldable exercise bikes are a terrific space-saving choice that allows you to add some light movement and cardiac training into your working day. A portable exercise bike, when used frequently, may improve your stamina, decrease body fat, and increase muscle strength. It's important to note that basic assembly and adjustment will be required each time you ride, but this is often balanced by the benefits of compact and portable storage.