The innovative minds at Fitness Club have recently released a sport indoor bike to take you to the next level. 
Not only does it look like it belongs in a high-end gym, but you can build up your stamina, cardio and fitness levels with confidence. What's more, the higher the intensity, the more calories you burn!
Overall, this fitness club passion sport indoor bike excels at balancing budget-friendly appeal with enough gadgets and gizmos to get you excited. Whether you're just starting out or want to take your fitness journey to the next level, this latest entry from Fitness Club is well worth a look.
Pros:
Budget-friendly
Smooth riding with adjustable friction resistance
Exercise quietly with belt drive system 
Adjustable and comfortable seat and handlebars
Pulse sensor to monitor your heart rate and progress
Easily transported and compact design
Easy reach bottle holder and phone holder
Cons:
Nuts and bolts need tightening regularly
Slow assembly and poor instructions
Limited display function
Users over 5ft4 may find it too short!
Passions Sport Spin Bike First Impressions
At a glance, the Fitness Club Passion Sport Indoor Bike looks the part. It's stylish design is supported by a sturdy steel frame that allows enough stability for when you want to take your speed up a notch.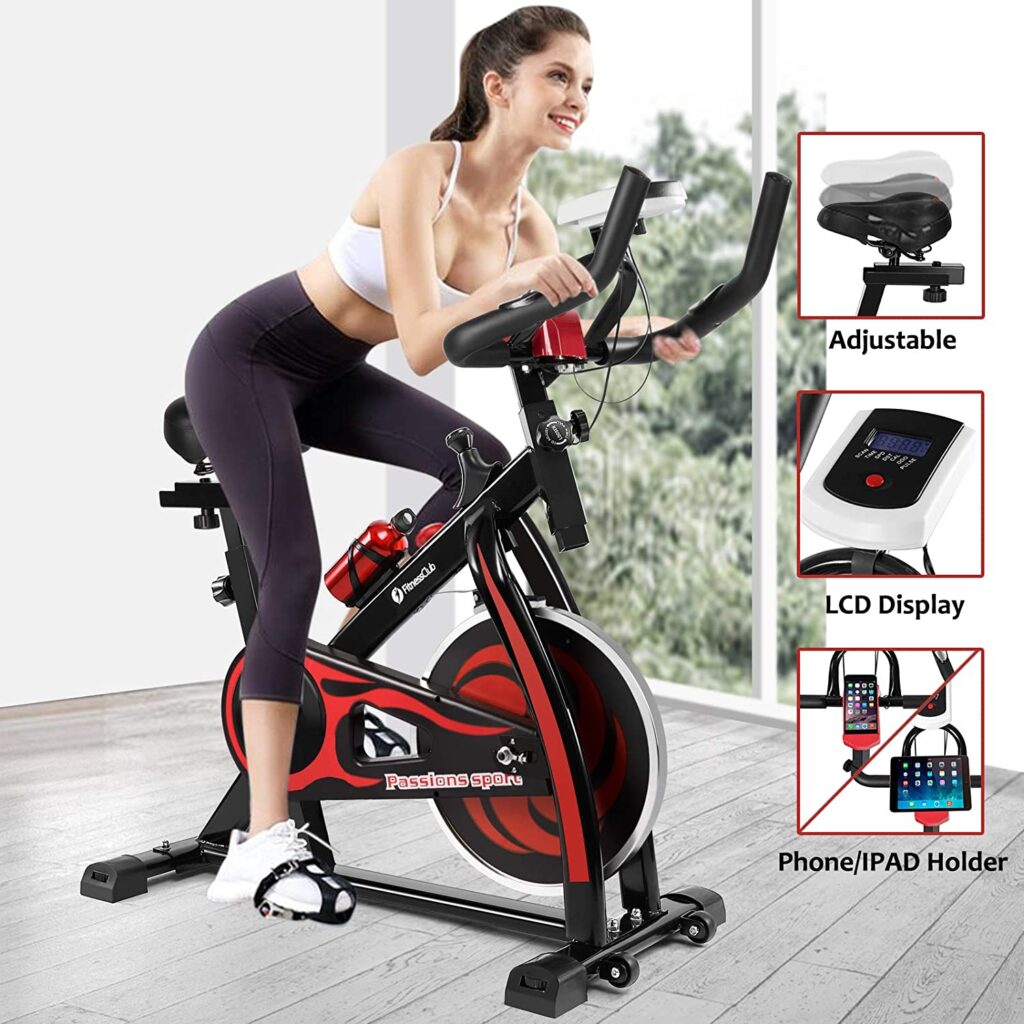 Then there's the handy wheels on the bottom of the bike, which allow you to exercise anytime, anyplace by simply wheeling it into the next room. Simple. Work your way round to the easy to read LCD display monitor, and you can keep tabs on your progress with a few pushes of a button. So everything from speed, distance and time to calories burned, and you've guessed it, your heart rate can all be accessed. 
Passions Sport Spin Bike Assembly
Yes, this bike looks the part and does everything you need from a basic, but well put together machine. Now here's the snag.
For all you novices out there, a basic flat pack from IKEA is about your limit when it comes to DIY projects. We get it. Unfortunately, Fitness Club haven't quite caught on. Instead of providing informative assembly instructions (if you're lucky to receive any), putting this bike together is no small feat. 
Once you've managed to figure out where the handlebars go, and the allocated attachments to secure them, you will need to keep an eye on nuts and bolts from this moment on. They will need to be tightened fairly regularly, and in some cases, after each ride. 
Safe and secure
For all it's quirks, our friends at Fitness Club have thought about your safety. With its ergonomic design, you can easily adjust the seat and handlebars to where you feel most comfortable. But that's just the first part.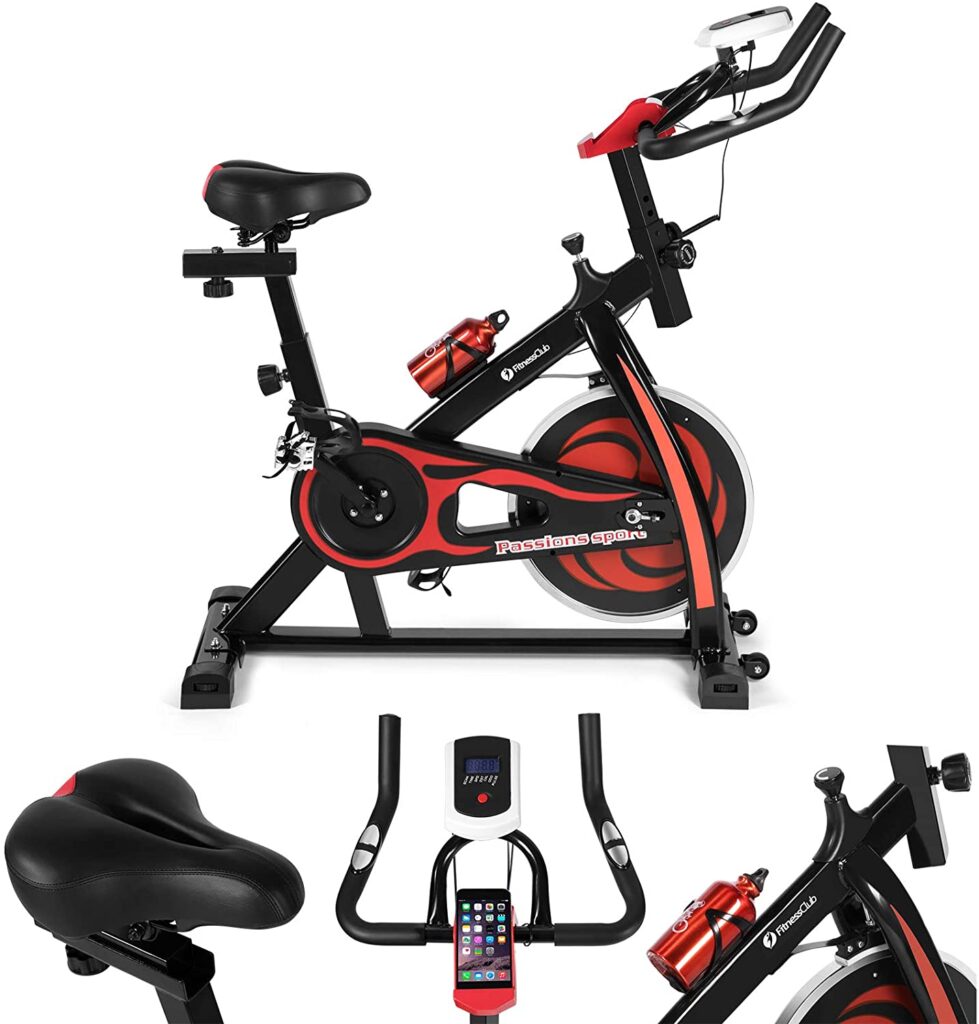 To give you all the confidence you need when you are cycling at the highest intensity, you can be rest assured that your feet are securely strapped in with the helpful foot cage. The risk of slipping is minimised and any damage to your muscles is significantly reduced as well – especially when you are riding for long periods of time. 
Adjustable resistance
There comes a stage in everyone's fitness journey, where you need to push yourself that little bit further to get the results you want. Fortunately, this bike is fitted with adjustable resistance so that you can push yourself to the max or take the scenic route – ultimately, you are always in control of your progress. 
One of the biggest appeals of at-home gym equipment is that you can exercise at your leisure within the confines of your own home. But noise can be a big deal-breaker for many living in close quarters to family or roommates. Thankfully, the great minds at Fitness Club have paired a well-balanced 8kg flywheel with an almost silent belt-driven system. So you can get all the worthwhile endorphins from your high-intensity workout without waking up the rest of your household! 
It may be sturdy
Yes this bike is sturdy and can support users up to 150kg, which is great. Also, it's a fantastic tool for increasing your energy and fitness no matter what stage you are at. So far, so good.
This bike prides itself on its adjustable seat and handlebars – it's one of the main selling points. However, there is a limit to how adaptable one piece of kit can be, and for this bike, it's the height. Anyone over 5 ft 4 may struggle with the lack of reach available. That said, there is an option to have the seat positioned in the front or back for added flexibility. 
Passions Sport Spin Bike Final Verdict: Mixed Reviews
Undeniably there is a lot to like about the Fitness Club Passion Sports Indoor Bike. It's well within most budgets for one, it's well built and wouldn't look out of place at your local gym. Then there's the noise factor to consider. It's pretty quiet as far as budget bikes go, and is easy to move around due to its lightweight build and handy wheels. 
Assembly is however an issue. Although most users won't be put off by a lack of assembly instructions, as the design is simple enough to understand, that will be a deal-breaker for some of you. Then there are the limitations of how much the seat and handlebars can be adjusted for taller riders. 
If increasing your fitness levels is your main goal, then this bike will support you throughout your journey. With the adjustable resistance working alongside you, you will feel the difference in no time. Paired with the helpful, if somewhat basic LCD monitor, there is enough basic information to help you achieve your goals.