Planning to enjoy a killer workout in the comfort of your own home? You've come to the right place. Exercise bikes are an excellent choice for at-home aerobic exercise. Their popular and cheap design, along with exceptional technological advancements, makes them an excellent complement to any home gym. What makes them such desirable machines?
The technology on an exercise bike is always tried and proven, and the weight-bearing nature of the cycling movement itself needs little coordination, making it especially gentle on the hips, knees, and ankles, and perfect for novices, the elderly, or those suffering or recovering from injury.
Our Handpicked Collection Of Affordable Exercise Bikes For Your Home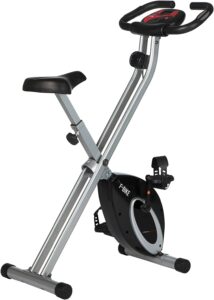 This amazing machine is a collapsible home training fitness bike with eight resistance levels. It's easy to set up and put away. It's produced by one of the leaders in foldable exercise bikes, Ultrasport, and features a training computer with an LCD display.
This bike can monitor your time on the bike and can scan your pulse for heart rate. It has a built-in monitor to track calories burned, speed, and distance and is useful for strengthening muscles and increasing endurance.
This bike is perfect for those individuals under 100 kilograms.
---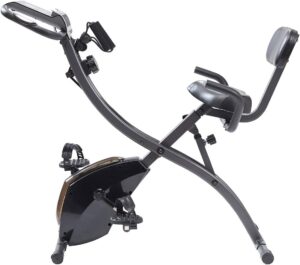 This sleek and modern slim exercise bike features an integrative application with various workouts and a large and beautiful LCD screen. It will make sure you are keeping up with your cardio progress.
Enjoy a full-body workout when you sculpt and tone your arms, shoulders, back, core, chest, quads, hamstrings, glutes, and calves with this amazing slim machine. The High Street has eight levels of magnetic resistance, perfect for working out any time of day.
---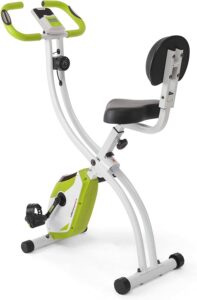 Also made by Ultrasport, this collapsible home training device includes eight resistance levels and easy setup and dissembling. This bike's curved design makes it especially easy to fold away. This is the original F-bike made by one of the industry leaders in home fitness equipment.
This setup comes with eight resistance levels and can track times, calories, speed, distance, and pulse, and comes with or without a backrest.
---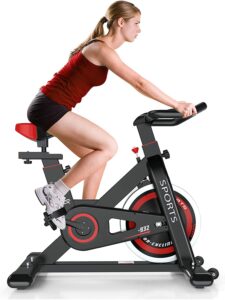 This stationary bike is equipped with a unique and heavy bidirectional flywheel and gives you the choice of various tension levels, allowing for an intense workout while burning more calories.
The bike comes with anti-slip pedals for your convenience and tracks your progress in real time, thanks in part to its pre-assembled digital monitor.
The eight-level adjustable seat and six-level handlebar adjustment make this bike suitable for anyone under 150 kilograms, no matter the height. The bike's state-of-the-art belt drive system creates a smooth and silent ride for your convenience.
---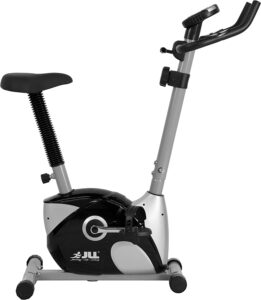 The JLL® JF100 is one of the most popular indoor bikes. This stationary exercise training bike has an electromagnetic brake system, precise load control, and maintenance-free slotted belt technology to ensure an extremely pleasurable workout experience.
The bike was designed with ergonomics in mind. Limiting the amount of workout-related pain incurred when using the bike, allowing for a more efficient and productive daily workout.
Each handle has a comfortable soft neoprene pulse sensor. The sensor allows tracking of vital metrics such as time, speed, and calories burned.
---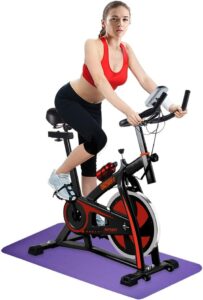 This sleek and modern indoor cycling bike by ONETWOFIT could be straight out of the future. This bike is driven by a silent belt that allows its rider to enjoy a smooth and quiet riding experience no matter what time of day.
The anti-stick pedals allow the rider to pedal in confidence, and the bike changes resistance at the push of a button. Want a super intense workout? Increase the resistance.
Squeeze the spinning bike handle to scan your vitals, including heart rate, calories burned, and exercise time. This bike comes with an emergency brake.
---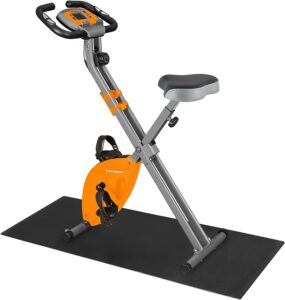 This bike boasts a clear and interactive display screen that allows you to clearly read your vitals, speed, calories burned, distance, and time. All while simultaneously watching movies or TV with the attached electronics holder.
The bike comes with an included floor mat to protect your flooring wherever you may want to work out. The mat can also double as a yoga mat to enhance your workout regimen.
Work out with this stationary bike from SONGMICS and pack it up and roll it away when you're done with it.
This bike includes a silent belt and is perfectly suited for those under 100 kilograms.
---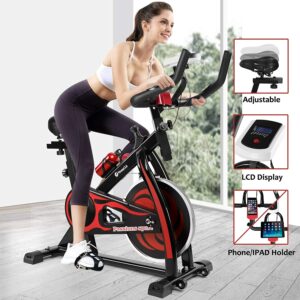 This bike will make you believe you are peddling in the Tour de France with its sleek and fiery design and its between-legs water bottle holder. The exercise bike features an accessible phone holder for watching shows or movies while working out.
The belt has an eight-kilogram flywheel and adjustable friction resistance for your smooth-riding pleasure.
This bike can withstand much weight, as the maximum limit is 150 kilograms. High-intensity cycling is recommended to get your sweat on and lose maximum calories.
---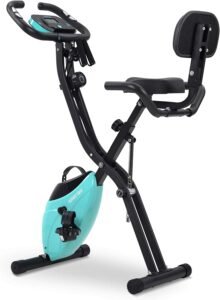 The Merax Fitness Bike is a magnetic exercise device perfect for indoor training of all levels. It comes with a 4-in-1 fitness design that allows you to transform the regular fitness bike into a recumbent to use the built-in resistance bands to maximize your workout.
This bike ups the game with its 10-step magnetic tension system to get the right workout that works for you.
This bike is ergonomically constructed for maximum comfort and pleasure and has thick padding and anti-slip pedals. The LCD display will make sure you don't miss any of your new personal records.
When it's time to get back to your friends or family, the MErax folds down into just half its standard size for easy stowing.
---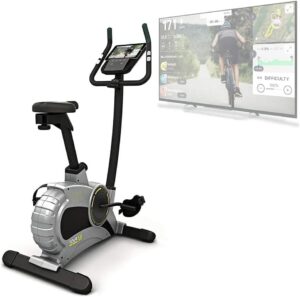 The Bluefin Fitness TOUR 5.0 is compatible with the Kinomap fitness app, which features thousands of on-demand workouts at the press of a button. Training from around the block or the world can be yours with this inclusive community of fitness professionals.
The bike itself features a 25-kilogram flywheel that allows for low- or high-intensity workouts any time of day. Measure your success with the interactive display that makes sure you know how your fitness journey is progressing.
This bike features cushioned armrests, HRC pulse monitors, an attached water bottle holder, and aluminium pedals with moulded toe cages for your riding convenience and comfort.
---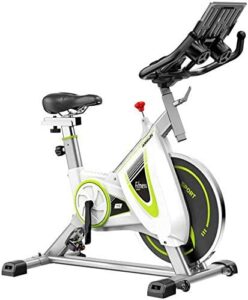 In a field all its own, the Peloton stands head and shoulders above the rest in the exercise bike arena. A state-of-the-art machine with a 19-inch aluminium flywheel makes for a super comfortable and silent ride.
Where Peloton stands out, though, is its interactivity and free classes for life. Choose from an intense mountain climbing workout one day to a chill ride in the park the next; all are included with your purchase. The Peloton's monitor is big and beautiful and allows for an immersive experience like none other in the industry.
It includes full-body workouts, an integrated webcam to ride with friends even when you're inside, an adjustable seat, and bars. On top of that a compact carbon frame to make sure your Peloton continues working as long as you do.
---
What To Consider When Buying An Exercise Bike? – Buyer's Guide
You must first determine your fitness goals before purchasing an exercise bike. Consider how frequently you will use it and how far you want to push yourself. Once you can make reasonable assumptions about how you will use the machine, it will be easy to select the one that perfectly suits your training objectives.
Flywheel – In general, the heavier the flywheel of an exercise bike, the smoother and less jerky the pedalling movement. The flywheel is a weighted metal disk that links to the pedals through a chain or belt and is normally covered by the exercise bike's shell. When you apply the brakes to the flywheel, you produce resistance.
Pedalling feel – Even at high resistance settings and out of the saddle, this should feel silky smooth with the same amount of resistance throughout the 360 degrees of pedal motion.
Maximum workload – This is the amount of resistance the bike will provide when pedalled flat out. Most normal bikes will generate more than 250 watts, while experienced cyclists or the really fit will require more than 400 watts.
Console feedback and ease of use – How clear and thorough is the information displayed? How simple is it to access programs (if any exist)? Are the buttons easily visible and usable?
Bike programmes – These can provide variety and incentive by replicating different hill courses, allowing you to construct your own programs, or managing your heart rate, among other things. Workout programs differ according to the brand and type of exercise bike.
Exercise bike power supply – Is the bike self-powered or does it require power from a power source? You may choose any choice based on your needs, but keep in mind that some exercise bikes must be placed near an outlet.
Riding position adjustability – The more adaptable the bike, the more pleasant it is for lengthy periods of time. All motorcycles include saddle height adjustment, with more modern versions providing both vertical and horizontal saddle and handlebar adjustments.
Standard of construction – Check that the frame is mostly made of metal, that the welds are neat, that the overall finish is decent with no sharp or rough edges, and that the moving parts are appropriately protected from prying fingers. A well-made exercise bike should be steady and not flex or wobble.
Exercise bike footprint – Because of its small size, an exercise bike is an excellent choice for many home gym settings, even if it is just a corner of your living room. This is especially true for upright and racing bikes, which have a small footprint. A recumbent bike, on the other hand, puts you lower to the ground with your legs extended, requiring somewhat more floor space than its competitors.
What Are The Different Types Of Exercise Bikes?
1. Upright Exercise Bikes
An upright exercise bike, the most common form of exercise bike, provides a cycling sensation that is quite comparable to the actual thing. An upright exercise bike, often with a frame that is simple to get on and off of, is the ideal accessory for most home gym enthusiasts. Upright bikes, with their modest size, take up less space in your house and provide a low-cost entry point into home riding. Upright bikes often have larger saddles for a pleasant ride and the ability to sit or stand while riding. More premium upright bike models may include a bigger touchscreen or console with additional fitness programs and entertainment options.
2. Recumbent Exercise Bikes
A recumbent exercise bike, with its chair-like seat, provides greater back support during your workout, allowing you to ride for longer periods of time in comfort. While you may not be able to engage as many muscle groups on a recumbent bike (since you must remain seated and cannot stand as on an upright cycle), it still burns the same number of calories. Because of the lower seat position, a recumbent cycle is an excellent alternative for the elderly or those recuperating from injury. It's worth noting that a recumbent exercise bike has a wider footprint than an upright exercise cycle, making it ideal for home gyms with limited space.
3. Racer Exercise Bikes
Racer exercise bikes (also known as studio bikes) are meant to closely imitate the sensation of a road cycle in terms of flywheel and resistance. They have a flywheel that is weighted and connected to the pedals through a transmission mechanism. You can modify the resistance with a dial, exactly like you would with a road bike. These bikes also allow you to ride while standing up, which provides a far more intense workout and utilizes a variety of muscle groups. Indoor cycling bikes are a wonderful alternative for expert fitness enthusiasts, not only because they imitate the sensation of real-life riding, but also because their resistance delivery is superb.
4. Air Exercise Bikes
Air exercise bikes, which are making waves in the functional fitness industry (and are even being utilized in professional contests! ), employ a big fan to provide resistance rather than the braking mechanism used in upright, recumbent, and racing cycles. The more effort you exert, the more resistance the air bike provides. You may sit or stand in an upright posture on the air bike, which forces you to utilize both your arms and legs to burn considerably more calories than any other form of workout bike. Despite the effort required, an air bike is low-impact equipment, making it an excellent choice for individuals who wish to prevent undue stress on their joints.
What Are The Benefits Of Exercise Bikes?
Less impact on joints – Cycling on exercise bikes has a lower effect on your joints than other aerobic workouts like jogging. As a result, it is an excellent home training alternative for all users, particularly novices, the elderly, and those recuperating from an accident.
Reduced stress – Endorphins are released into the bloodstream during cardiac activity. This endorphin release causes a natural high, which lowers tension.
Boosted energy levels – Exercise of any type can boost your energy levels, and cycling is one of the greatest ways to boost your total energy.
Increased lung capacity – Cycling increases lung capacity, making you stronger and fitter.
Encourages aerobic fitness – Pedaling delivers an aerobic workout that is beneficial to your heart, brain, and blood vessels.
Helps to build muscle – You employ your quadriceps, gluteus muscles, gastrocnemius muscles, and soleus muscles during the power phase of pedalling (the down-stroke). You engage your hamstrings and flexor muscles throughout the recovery phase (back-stroke, up-stroke, and over-stroke).
How Much Do Exercise Bikes Cost?
Exercise bikes under £100 are available, but they are mainly foldable versions that aren't particularly strong and are only suited for light exercise. You should not attempt any type of HIIT or spin on them. Good upright bikes start at £150 and are typically less expensive than indoor cycles and recumbent bikes – practically all possibilities are less than £1,000. The cheapest indoor bikes cost £250-£300, and the most realistic cycling experience costs more than £3,000. Heavier flywheels, better connection (including, in some cases, to companion applications with guided exercises), and more programmed programs and difficulty levels are commonly added features found on more costly bikes.
Final Verdict on Exercise Bikes
We hope you liked our detailed article on exercise bikes and what to look for when buying one. In many home gyms, exercise bikes are a common item of equipment. There is a broad variety of exercise bikes available, each with its own set of functions. When looking for a home exercise bike that works for you, keep the type of bike, price, resistance levels, and other amenities in mind. Which exercise bike are you planning to buy for your home? Tell us in the comment section.